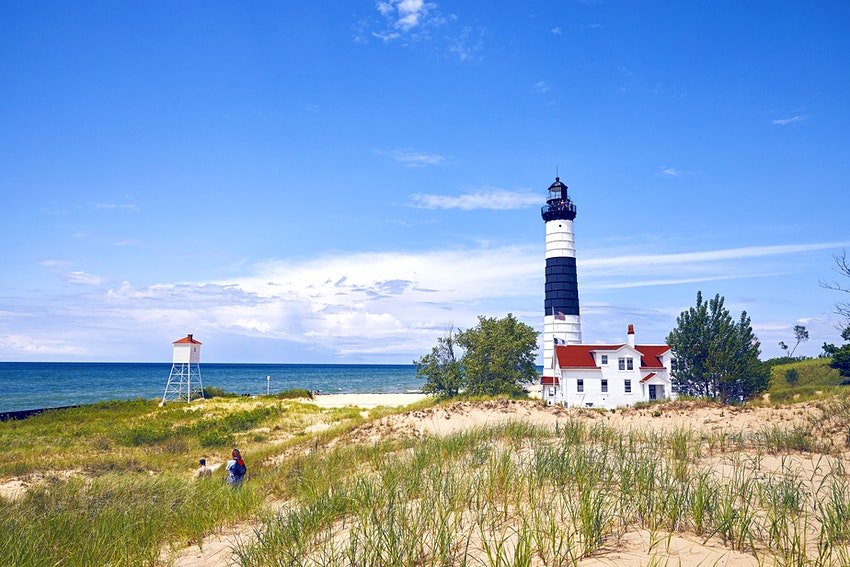 Experience the Great Lakes on one epic road trip
An epic road trip through the Great Lakes region will include road, water and sky © Aubrie Pick / Lonely Planet
A happy marriage of open road and open water, of blacktop and blue swells, a looping tour of the Great Lakes – beginning and ending in Chicago – can take in five states, four of the lakes and the birthplaces of two music legends.
As much country as it is town, this road trip delivers all the hazy, lazy romance of a beach holiday while staying firmly inland.
An epic road trip through the Great Lakes region will include road, water and sky © Lokibaho / Getty Images
Chicago, Illinois, to Toledo, Ohio
Stick close to the Lake Michigan shoreline and it's just 20 miles from downtown Chicago to the Indiana border. A handful more and you'll be in Gary, a once-prosperous steel town that, though now heavily rusted, still has its fans – most of them musical. Michael Jackson may be a contentious figure these days, but it is nonetheless sobering to visit the two-bedroom bungalow where he and his nine siblings grew up and the Jackson 5 was launched. Fenced off from the public and currently missing its tribute stone, 2300 Jackson St only stands out because it is one of the few tended properties in a rundown, largely forsaken neighborhood.
Gary is the western bookend of Indiana Dunes National Park, one of the country's newest national parks and a patchwork of beaches, marshland, prairie, scrub and forest running for 25 miles alongside Lake Michigan. There you can swim, hike, ride horses and spot rare plants and birds, and bed down at Dunewood Campground.
Afterward, head east on Interstate 80, to Toledo, Ohio, at the western tip of Lake Erie. An industrial metropolis in its heyday (it made a lot of glass, hence its nickname "the Glass City"), and something of a safe space for mobsters and bootleggers during Prohibition, Toledo has recovered its mojo recently, bringing in art lovers (the Toledo Museum of Art is world class), sports fans (the Toledo Mud Hens, one of the oldest Minor League Baseball teams, pack out their stadium) and devotees of the Hungarian hot dog.
Surfing is possible on the waves of Lake Huron, like here near Lexington, Michigan © Dennis Macdonald / Getty Images
Toledo, Ohio, to Bay City, Michigan
Before you head north up Hwy 23 to the university town of Ann Arbor, where you can fill up on experimental art, vegan cuisine and radical politics, make a detour to Luna Pier, a modest resort town just over the Michigan state line. Here be surfing. Yes, you can surf on the Great Lakes, and at any time of year, but you're more likely to get the right blustery conditions to do so in fall, winter and early spring. Lunar Pier has some of Lake Erie's most popular breaks.
From Ann Arbor, pick up Interstate 69 at Flint and at Port Huron join Hwy 25, which clutches Lake Huron's supremely scenic western shore – "the sunrise side" – all the way to Saginaw Bay. The coast is punctuated by quaint towns – Lexington and Ports Sanilac, Hope and Austin – and their beaches, lighthouses, marinas and charter fishing.
Michigan's Lower Peninsula is often referred to as "the mitten," and Saginaw Bay separates the thumb of that mitten from the rest of it. Bay City, the birthplace of Madonna, sits in the crook of that thumb. It's one of the better spots for surfing.
The architecture of the Bavarian-style town of Frankenmuth retains some of the character of its original German immigrants © csfotoimages / Getty Images
Frankenmuth, Michigan, to Traverse City, Michigan
Before you head east across "the mitten" on Hwy 10, a visit to Frankenmuth, aka "Little Bavaria," is in order. The area was settled in the 19th century by Lutheran immigrants from Franconia, Germany, and the town – in its timber-framed architecture, beer and sausage festivals and German spoken as a second language – has retained more than a flavor of the old country.
At the end of Hwy 10, on the east coast of Lake Michigan, is Ludington, one of the state's best beach towns, with 28 miles of sandy shoreline, community beach bonfires, and a coal-fired car ferry to and from Manitowoc, Wisconsin. More salmon and trout are caught from Ludington each year than anywhere else, so hire a charter boat and get your catch prepped, broiled or poached at one of many local restaurants participating in Michigan's Catch and Cook program.
A restored foghorn tower stands on the edge of Lake Michigan in Ludington State Park. © Aubrie Pick / Lonely Planet
Join Hwy 31, which skirts Lake Michigan for 366 miles and travels north to where the Lower meets the Upper Peninsula, or "the Yoop," via the five-mile Mackinac Bridge, an ethereally elegant piece of engineering that looks plucked from the pages of Greek mythology.
On the way, make time for the myriad virtues of northwest – that is, lower northwest – Michigan: the vineyards, wineries and fine-dining establishments in and around Traverse City, a resort town producing 75 percent of the country's tart Montmorency cherries, the Leelanau Peninsula, Charlevoix, Harbor Springs, Boyne City and Petoskey, whose beaches, though they're mobbed in high season, still feel untamed and isolated.
Special mention must go to the Sleeping Bear Dunes National Lakeshore. Its steeply elevated bluffs – which help make up the largest freshwater dune system in the world – beech and maple woodlands and views of Lake Michigan at its most Mediterranean amount to a natural wonder. The Overlook, an observation point on the Pierce Stocking Scenic Drive (closed for construction), gazes down on a 450ft near-drop. People are warned to not descend because few have the lung capacity to get back up (in 2018, 17 people had to be rescued). Surfers are welcome to chance their boards at the public beach in Empire, a candy-colored hamlet of weathered buildings Norman Rockwell could have painted.
The ghosts of long-forgotten ships still surface on the banks of Lake Superior, near Munising © ehrlif / Getty Images
Traverse City, Michigan, to the Upper Peninsula, Michigan
Nicknamed "the Deep North," heavily forested and formerly rich, the Upper Peninsula is a place of mystery, of ghosts. Hear some of their stories at the Great Lakes Shipwreck Museum, at Whitefish Point, west of Munising town. More than 6,000 ships and 30,000 lives have been lost on the Lakes, in large part because they lack natural harbors in which vessels can wait out violent storms.
Keweenaw Peninsula, northwest of Marquette, a major port on Lake Superior, is likewise haunted. Native Americans were the first to mine copper in the area, some 7,000 years ago, but it took the Ojibwe to sign a treaty in 1842 ceding their mineral-rich lands to the United States for the copper rush, which made more fortunes than California's gold rush, to gain momentum. Almost all of the mines were shut down during the Great Depression, and relics of the industry – several ghost towns, the erstwhile opera house in Calumet – are all that is now left.
There's charm to spare in Wisconsin's Door County © gkuchera / Getty Images
The Upper Peninsula, Michigan, to Milwaukee, Wisconsin
Bear south on Hwy 141 and you'll be in Wisconsin in a couple of hours. Overshoot Green Bay and hang a left on Hwy 57 into Door County, a narrow spit of land – 75 miles long by 3 miles at its tip – that juts out into Lake Michigan. Mesmerizingly tranquil and comfortably affluent, every square inch of this "Cape Cod of the Midwest" seems to carry a divine stamp. It's a storehouse of biological diversity. And its towns, such as Egg Harbor and Fish Creek, are stuffed with charm, independent stores and artisanal bakers.
As a way of weaning oneself off the cozy joys of bucolic Wisconsin and easing oneself into the raw excitement of Chicago, Milwaukee, off I-43, makes the perfect transitional stop. Brew City continues to make beer, but it has diversified its appeal, transforming itself into an assuredly cool arts, music and festival hub, and some of its neighborhoods, such as Bay View, south of the downtown area, are so hip it hurts.
From there, it's back to the big city. But not without a carful of memories, a camera full of photographs, and a head full of beach hair.