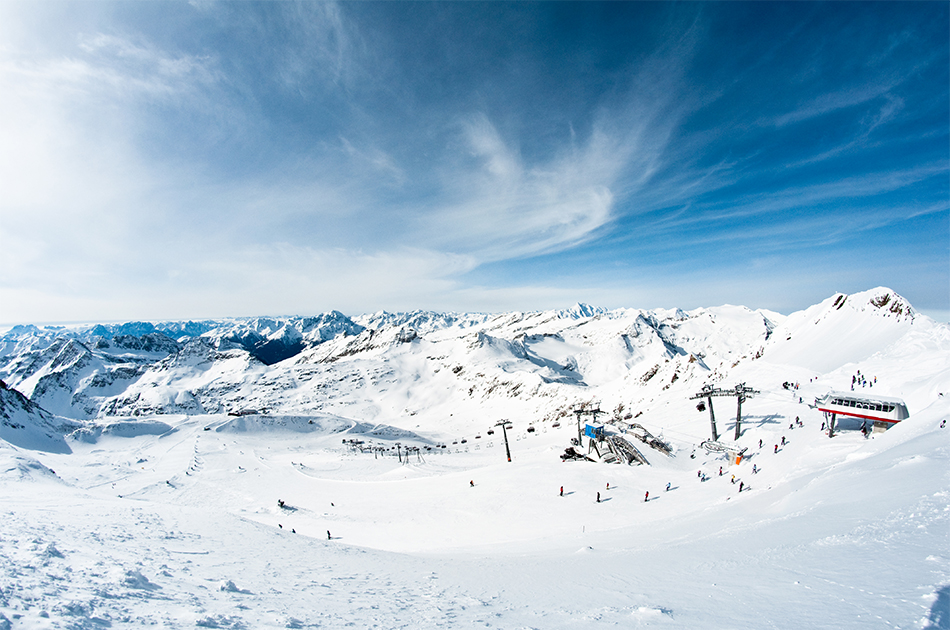 8 Best Ski Resorts in Vermont
Skiing in Vermont USA is legendary. It has the most Winter Olympians per capita of any state in America. There must be plenty of opportunities to perfect those world-class turns there. After all, these are the mountains where multi-medalist Bode Miller and snowboard cross racers Lindsey Jacobellis and Alex Deibold learned their skills.
Vermont is also a great place for everyone to explore the sport of skiing. Nearly all ski resorts there has a good range of terrain for everyone, from children on their first skis to Olympic skiers. And from laid-back ski areas with inexpensive lift tickets to multi-mountain resorts with miles of trails, Vermont ski resorts have it all. We've selected the best ski resorts in Vermont for you!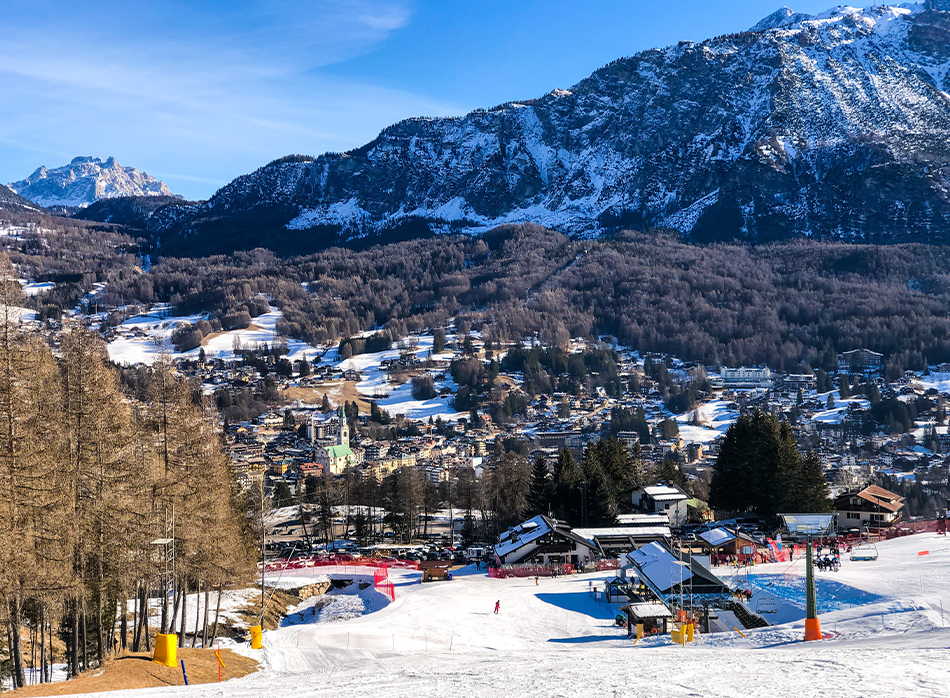 1. Killington: The largest ski area in the East, with terrain spanning seven mountain ranges
Killington is appropriately dubbed "The Beast of the East," as it encompasses six mountain peaks (seven if you include Pico Mountain, which is connected via shuttle bus) and five base areas.
It has more expert terrain than any other mountain, with 60 trails and 16 glades, but it also has a lot of intermediate and beginner terrain, with 53 and 43 trails, respectively.
Killington's sheer size allows it to offer a wide range of ski styles, including old-fashioned narrow trails winding through the woods, wide-open cruising trails, mogul faces, and steep drops. It has the most skiable terrain in Vermont and one of New England's largest Snow mountain landscapes.
Snowboarders and freeskiers have six terrain parks to choose from, including The Stash, an all-natural park with more than 50 features. The Superpipe is 500 feet long and has walls that are 18 feet high.
Every weekend during the ski season, there is something going on at Killington, including festivals, bands, competitions, and events. The entire access road is lined with restaurants and entertainment establishments. There are also plenty of outdoor activities nearby, such as snowmobile tours, sleigh rides, tubing, and dogsledding.
Traditionalists may prefer the somewhat old-fashioned, laid-back charm of Pico Mountain, which has one of Vermont's highest vertical drops at 1,967 feet. Pico's snowmaking system is still being upgraded over a multi-year period.
Along with the restaurants and après-ski spots that line Killington Access Road, there's also the large Killington Mountain Lodge, which has an indoor pool, and the Birch Ridge Inn, which is close to the ski area and has an included breakfast and an in-house restaurant.
2. Okemo Mountain Resort: The best place in Vermont for kids skiing
Okemo makes a family ski trip simple and enjoyable, with convenient on-mountain lodging and excellent children's ski school programs. There are trails for all skill levels and terrain parks galore, including the East's longest superpipe, and a massive snowmaking operation covers 98 percent of the ski area. The resort is complemented by the charming Ludlow village, which is located down the road and offers casual local dining and shopping. Okemo is also more accessible from major population centers and airports on the Northeast coast than other Vermont resorts.
Okemo's 122 trails and glades spread across 669 acres are evenly divided for skiers of varying abilities, with an additional dozen glades for experienced skiers who prefer tree-studded terrain. Boarders keep coming back thanks to the East's longest superpipe and seven of the most innovative terrain parks.
Okemo consistently maintains some of the best ski conditions in the east thanks to natural snowmaking, snowmaking, and grooming. A full 98 percent of Okemo's trails are covered by state-of-the-art snowmaking to supplement the average 16 feet of natural snow, a feature that Okemo has been lauded for repeatedly in national awards. It has consistently led in environmentally sound development, especially in its snowmaking and in powering its lifts.
The Evergreen Summit Express, a high-speed bubble quad lift, and Quantum Six, a high-speed six-pack chairlift, are new for the 2021/2022 season. Skiers staying at the Jackson Gore base will be able to ride the Quantum Six to the summit of Gore Mountain, ski across to the base of the new Evergreen Express, and ride the Evergreen Summit Express to the main mountain's summit and trails.
Okemo also excels in off-slope amenities, with two base areas linked by lifts and trails, a full-service luxury resort hotel, condos, award-winning fine and casual dining, a spa with fitness facilities, indoor and outdoor swimming pools, a tubing hill, the Timber Ripper Mountain Coaster, snowcat excursions, and a covered skating rink.
3. Mount Snow: Well-groomed trails and first-class terrain parks
Mount Snow, the closest major Vermont resort to New York City, is approximately a four-hour drive away. Its strengths are in the abundance of intermediate terrain, but the mountain is divided into four distinct areas.
Different skiing abilities have their own sections of the mountain. In addition to the beginner area and the slow ski zone, the Long John/Little John trail from the peak gives novices the thrill of skiing from the top.
The main face of the mountain has enough intermediate trails and slopes to keep you busy for an entire day, and the Sunbrook area at the back of the main mountain has its own lift. A pair of triple chairlifts serve the North Face, which has ten expert trails and one double-black.
Mount Snow's southern location made snowmaking a top priority early on, and it now has the most high-output fan guns of any North American ski resort. A $30 million snowmaking project has increased capabilities even further, and newer low-energy snow guns have made it one of the most energy-efficient resorts in the industry.
Corinthia's recent expansion of 9.8 acres of snowmaking allowed for the addition of a small terrain park for beginners and intermediates. Mount Snow was purchased by Vail in late 2019, bringing it into the Epic Pass family, where it joins Okemo and Stowe, as well as several New Hampshire mountains. Credit or debit cards will be accepted for all transactions throughout the resort.
The base area has both luxury and budget-friendly lodgings, as well as moderately priced lodgings. The Mount Snow Lodge provides a shuttle service to the base lodge.
4. Smugglers' North: Family-friendly resort with stunning mountain views
Few ski resorts are as kid-friendly as "Smuggs," a self-contained destination resort near Burlington. A dedicated and supervised teen club; an indoor FunZone with climbing inflatables, an indoor pool, a slope-side nursery, and a whole series of innovative age-appropriate ski classes; and programs for children as young as two-and-a-half years old are among its many family-friendly amenities.
Snow Sport University has expanded its learning program to include not only skiing techniques but also the ability to select appropriate equipment and "read" the terrain and changing snow conditions. These attributes have earned it the title of #1 Kid-Friendly Resort in the East by SKI Magazine readers.
Bonfires and roasting marshmallows at the base area as the lifts close, torchlight parades down the slopes, fireworks, and other festivities are all part of the Smuggs experience. The ArborTrek Zip Line offers canopy tours, and there are frequent guided snowshoe nature hikes. Slope-side condos are designed with families in mind.
But don't think Smugglers' Notch caters only to small-fry. Skiing and riding on three mountains offer 40 intermediate trails and 25 for experts, and its 360 skiable acres cover a vertical drop of 2,610 feet.
The Madonna Mountain banked slalom course, which provides more opportunities for intermediates and experts; it will be used for lessons, but it will also be open to independent skiing. There are also Fat Bike rentals available, as well as winter access to Smuggs' expansive MTB terrain; bike-specific winter events are planned.
Despite being further north than many other ski resorts, it is Vermont's closest major ski resort to a commercial airport.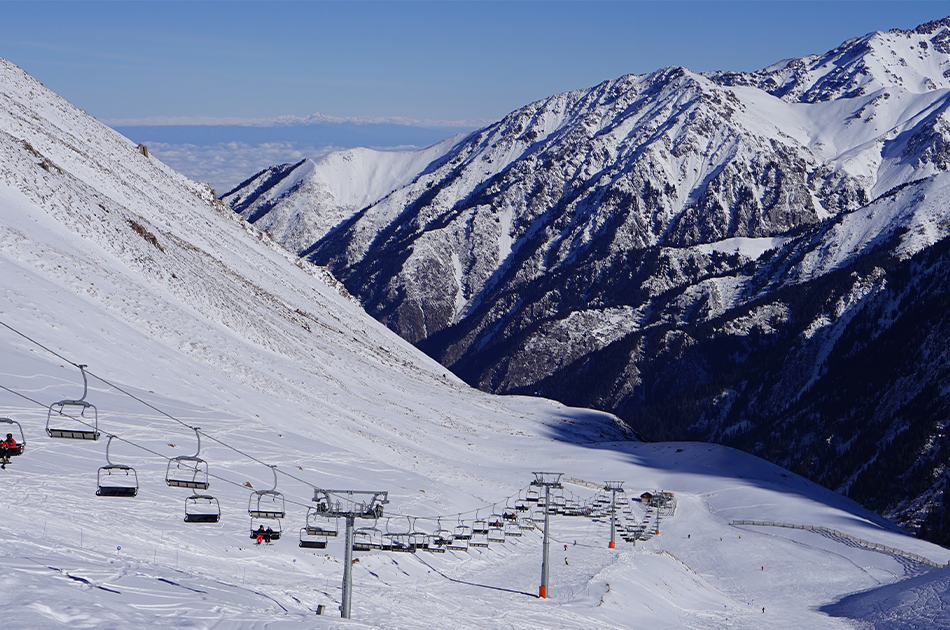 5. Stowe Mountain Resort: A charming ski village that combines expert ski terrain with opulent hospitality
Stowe is known for its indulgent hospitality and gnarly skiing that's spread across two mountains. Mt Mansfield, which is the highest peak in Vermont, has plenty of blue and black runs, while Spruce Peak is good for beginners and families.
Stowe, one of the country's first ski resort towns, was already well-known in 1937 when one of the world's first chairlifts was installed. Stowe now has two gondolas (one of which connects the two mountains), three high-speed quads, three conventional quads, two triples, and three double chairlifts that transport skiers to trails. More than half of the 116 trails are geared toward intermediates, with 29 geared toward experts and 19 geared toward beginners. Three terrain parks put boarders to the test.
On-mountain Kids Adventure Zones with gentle slopes and freestyle terrain designed specifically for learning have recently been added. Stowe, which was purchased by Vail in 2018, is now a part of Vail's Epic Pass network, which also includes Okemo and Mount Snow in Vermont, as well as several ski resorts in New Hampshire.
The slope-side resort of The Lodge at Spruce Peak, opposite the base of Mt. Mansfield and connected by a free cross-mountain gondola, features luxury lodging, a spa with a heated outdoor pool, and an art center.
Mountain Road, which connects the mountain and the village, is lined with country inns, luxury resorts, and restaurants. Topnotch Resort & Spa is a full-service resort with a fine-dining restaurant near the ski area's base. The village itself contributes to Stowe's allure.
The Stowe Recreation Path, which runs from town to the mountains, is popular with cross-country skiers and snowshoers. Aside from outdoor sports, Stowe has plenty to offer in the winter, including shopping in its many craft and art galleries, visiting the Helen Day Arts Center, and learning about Stowe's and New England's ski history at the Vermont Ski Museum.
Other winter activities in Stowe include twilight dogsledding tours, sleigh rides, and snowmobile tours through the Mt. Mansfield State Forest.
6. Jay Peak: Family-friendly ski resort with a plethora of activities
Jay Peak, located in the far north of Vermont, just a few miles from the Canadian border, is widely regarded as Vermont's snowiest ski resort. The terrain is divided into two base areas, Stateside and Tramside, and features some of the best glade skiing in the East. It's a family favorite, with ice skating rinks, climbing gyms, and The Pump House - a massive indoor waterpark complete with slides, hot tubs, and even a FlowRider! There are fewer people here than in other Vermont resorts, but there is no nightlife.
Jay's 78 trails and slopes include 24 glades, including Moonwalk Woods, Bushwacker, and Kokomo, which are designed for beginners. There are 15 beginner trails, 30 intermediate trails, and 31 expert trails in total. However, the appeal of Jay for many experts is its backcountry skiing.
The mountain's total lift capacity is more than 12,000 skiers per hour, thanks to Vermont's only aerial tramway, which transports up to 60 people from the base to the 3,968-foot summit. Many of the skiers at Jay are from Montreal and the Eastern Townships of Quebec, lending a French-Canadian flavor to the entire resort. You'll hear as much French as English here, if not more.
7. Sugarbush: The same excellent skiing as at Killington or Stowe, but without the crowds.
Sugarbush has some epic terrain that rivals Killington or Stowe, but without the crowds. Its two mountain trails and 2,000 acres of backcountry kept it on the top of the list for serious skiers.
More than half of its 111 trails are rated for intermediate skiers, but experts can put their skills to the test on 36 trails and 21 glades, while 24 trails are rated for beginners. The two-mile-long Slide Brook Express chairlift transports visitors to Mt. Ellen's trails and glades. The East's only CAT skiing experience provides a few skiers with first tracks on fresh powder mornings or spring skiing on Mt. Ellen. There are three terrain parks and a half-pipe for snowboarders.
Although the jet-setters have flown away, Sugarbush still has a vibrant après-ski scene, with both fine and casual dining options. It's also generally less expensive than popular nearby resorts, but not at the expense of luxury or amenities. There's a genuine rustic feel to the base area, with some luxurious accommodation and plenty of dining options.
8. Trapp Family Lodge: The first cross-country ski center in America was founded here
The Trapp Family Lodge in Stowe, Vermont, has more than 60 kilometers of groomed trails and 100 kilometers of backcountry trails through pristine spruce forests. The von Trapp family of The Sound of Music founded America's first cross-country ski center here in the 1960s. This mountaintop winter sports center, which includes an Alpine-style inn, dining, equipment rentals, and a learning center, is still owned by the family.
Whether you ski alone or on a guided tour, you'll be treated to breathtaking views of the Green Mountains. Stop by the Slayton Pasture Cabin for homemade soups or hot chocolate by the fireplace.