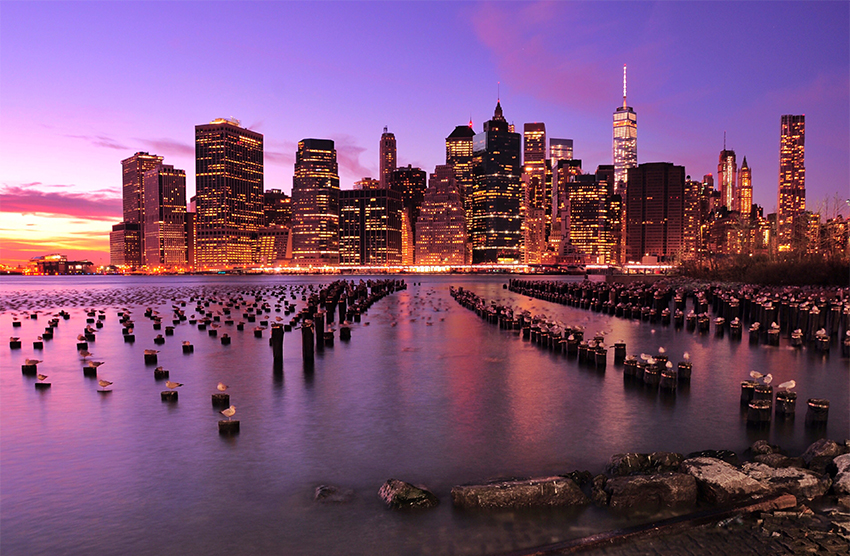 Top 10 Best Travel Attractions in United States
America's stunning vistas, scenery, and landscapes are renowned and recognized around the world, having appeared in innumerable films and television series. The United States is home to a great number of spectacular and iconic sights, from the gorgeous and massive Grand Canyon to the majestic Monument Valley and Manhattan's skyscraper-studded skyline.
Its 50 states boast brilliant and attractive beauty, with dramatic coasts, exquisite lakes, and harsh desert landscapes, making it one of the world's largest countries. There are many natural and man-made wonders, as well as some of the best and most spectacular national parks on the planet, between the Rockies in the west and the Blue Ridge Mountains in the east.
Taking an amazing road trip across America's most beautiful areas, stopping at its most famous and photographed sights along the route, is one of the greatest ways to view the country's most gorgeous spots.
1. Grand Prismatic Spring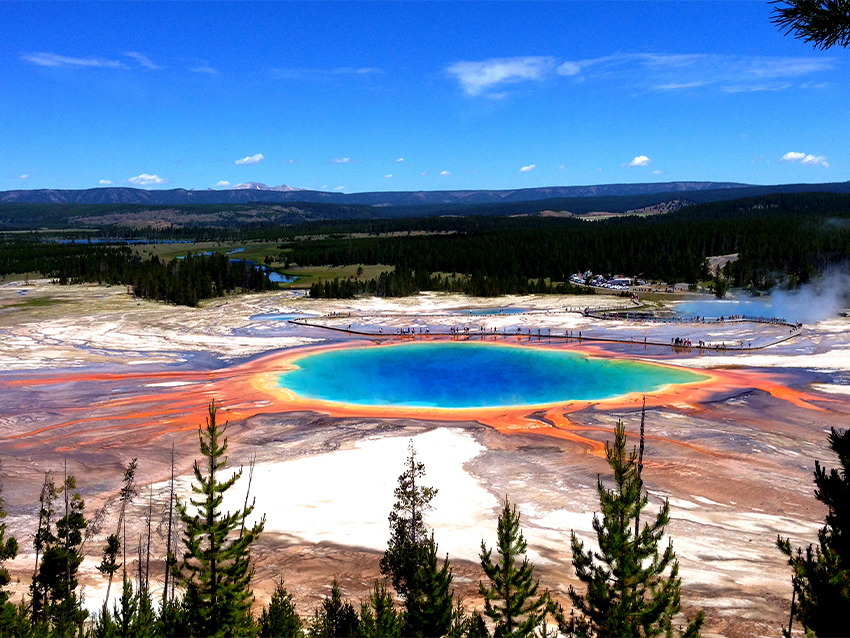 Grand Prismatic Spring is located in Yellowstone National Park, near other beautiful pools and roaring geysers, and is known for its kaleidoscope colors. It is the world's third-largest hot spring, with a diameter of 110 meters and a depth of 50 meters.
Although its size and scale are stunning, it is best known for its vibrant hues, which include reds, oranges, yellows, greens, and blues. The juxtaposition between these vibrant hues and the bleak terrain surrounding the steaming spring creates a stunning scene.
2. Horseshoe Bend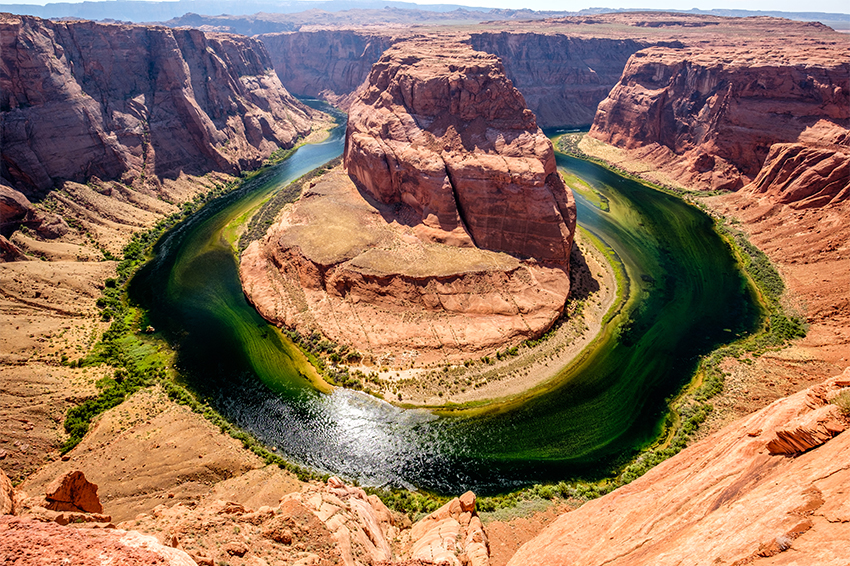 Horseshoe Bend, located just outside of Page in the Glen Canyon National Recreation Area in northern Arizona, is awe-inspiring. It is known for its unusual horseshoe-shaped appearance, which sees rugged cliffs bend around the raging river below, formed over millennia by the Colorado River.
Horseshoe Bend is particularly popular among tourists since it is such a striking sight; many people hike the short distance to its renowned viewpoint. This viewpoint, which stands more than 300 meters above the river, provides spectacular views of the natural wonder, with sunset being the finest time of day to see Horseshoe Bend in all its grandeur.
3. Manhattan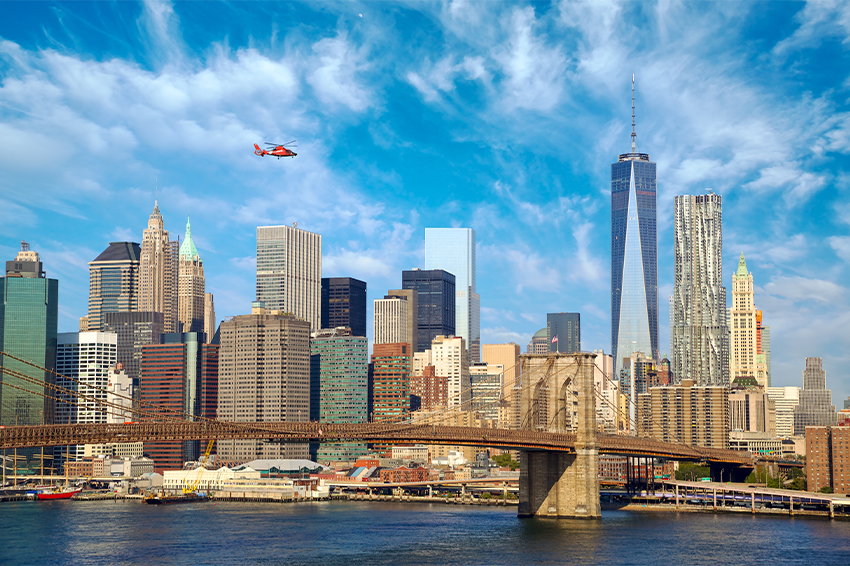 Manhattan's sweeping collection of skyscrapers is the iconic picture of both New York and the United States, having been featured in innumerable films and television series. Central Park, the Empire State Building, Wall Street, and Times Square are just a few of the city's many must-see attractions.
The city is great to explore, with something for everyone to enjoy. It is often referred to as the world's cultural, financial, and entertainment center. Manhattan's landmarks and districts are unlike any other location on Earth, whether you're interested in great dining and nightlife or monuments, museums, and musicals.
4. Yosemite Valley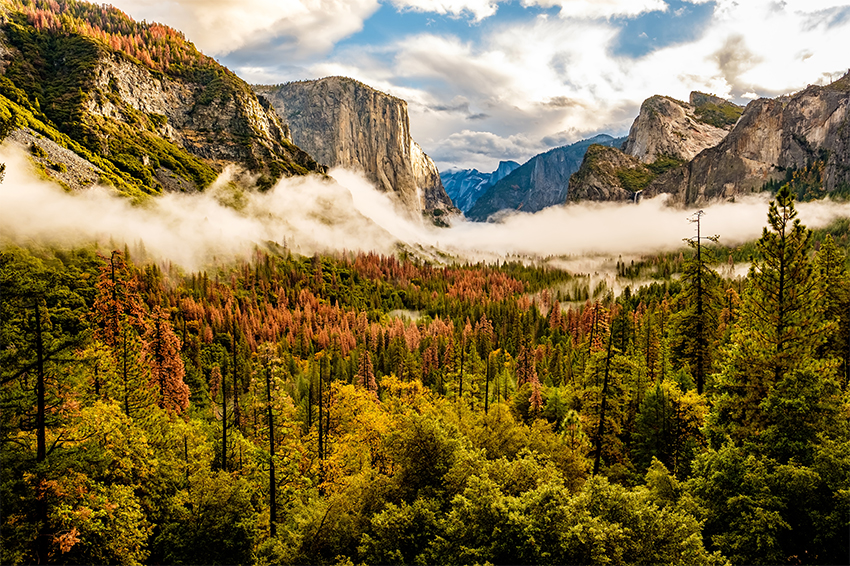 This huge valley, hidden among the Sierra Nevada mountain range, is the most popular and photographed portion of Yosemite National Park. The gorgeous glacial valley, which is covered in pure pine trees and is surrounded by massive granite mountains such as the famous El Capitan and Half Dome, spans about 12 kilometers and is covered in pristine pine forests.
Yosemite Falls, the highest in North America, is one of the many dazzling streams and waterfalls that flow into it. Yosemite Valley is breathtakingly beautiful, with a plethora of great hiking trails and stunning views around every corner.
5. Nā Pali Coast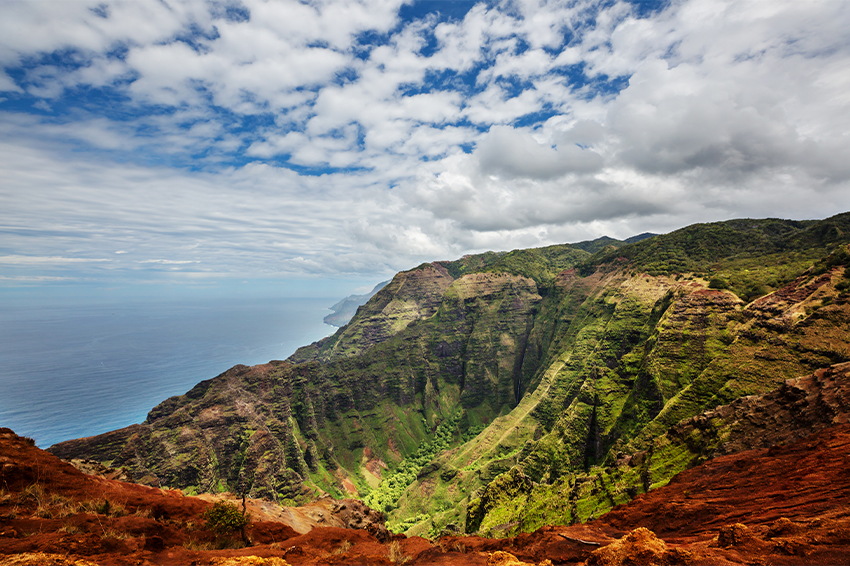 The Na Pali Coast is one of Hawaii's most recognized and photographed vistas, dominating and defining the northwest coast of Kaua'i. Its massive, jaw-dropping craggy cliffs soar 1,200 meters above the Pacific Ocean's glistening seas, with picturesque beaches and coves concealed behind. Because of the difficult terrain, the only way to see it is by hiking, kayaking, or helicopter, with breathtaking views from every direction.
While it is best known for its appearance in Jurassic Park, the magnificent and beautiful stretch of shoreline has also been used in a number of films and television shows. The Na Pali Coast is one of America's most breathtaking sights.
6. Grand Teton National Park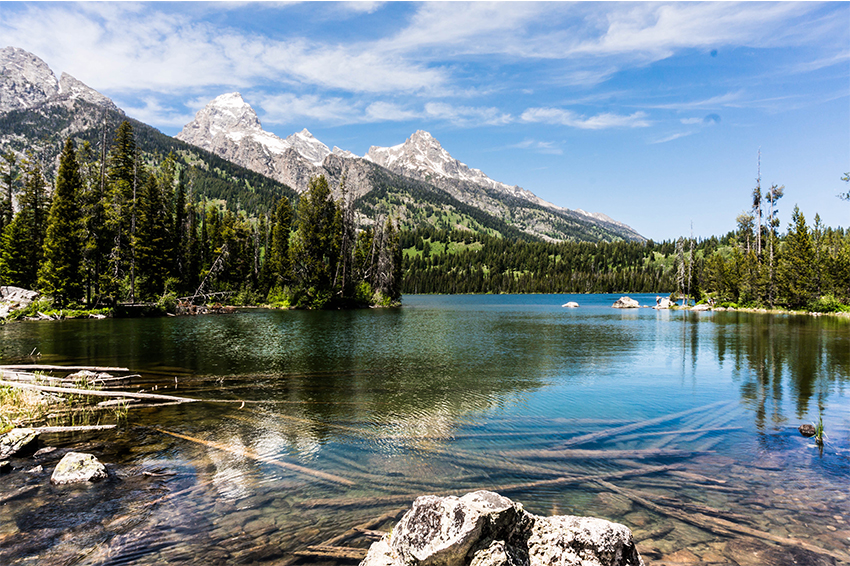 Grand Teton National Park will satisfy nature lovers and outdoor enthusiasts with its magnificent mountains, wide valleys, and brilliant alpine lakes. The park, which is located in the northwest corner of Wyoming, spans a large portion of the Rocky Mountains and is named after the Grand Teton, the range's tallest peak at 4,199 meters.
The dramatic landscapes are breathtaking, and the gleaming glaciers, lush woods, and rushing rivers are ideal for a variety of sports like hiking, rock climbing, and skiing. Elk, bears, and moose wander freely in the national park, making it a terrific area to go wildlife watching.
7. Monument Valley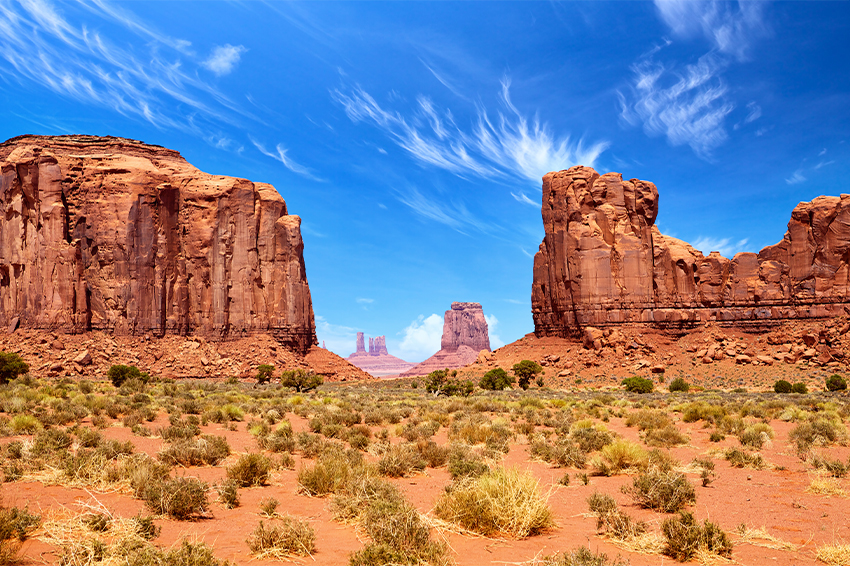 Monument Valley is one of the most well-known natural sights in the United States, having appeared in numerous commercials, films, and television series. Its gorgeous buttes, with their vivid reds and oranges, rise majestically over the desert, contrasting pleasantly with the blue sky above them.
The heavenly vistas and landscapes of the Navajo Tribal Park on the Arizona-Utah state line are known as the 'Valley Between the Rocks.' It's impossible to forget driving between its scarlet columns and dramatic silhouettes, bringing up thoughts of cowboys and Indians and the ancient American West.
8. Lake Tahoe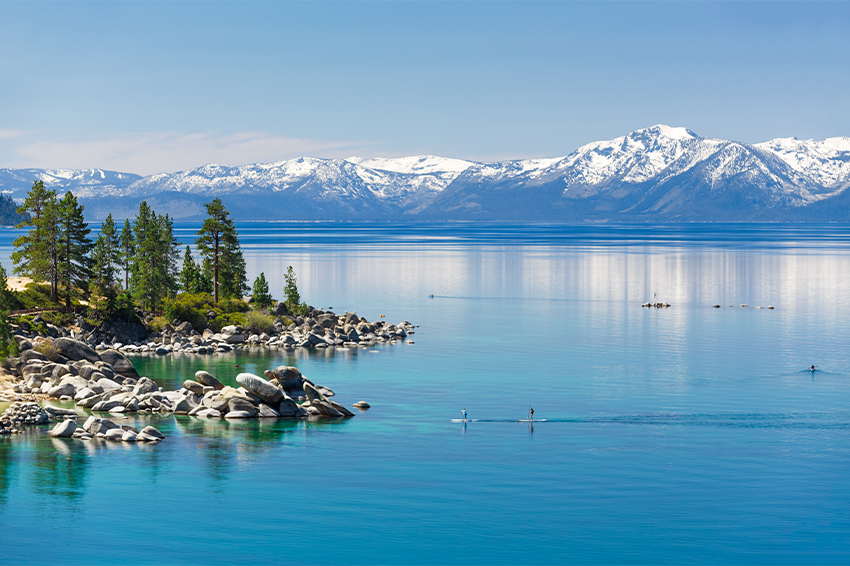 Lake Tahoe crosses the states of California and Nevada, nestled among the Sierra Nevada mountains with lush woods, small cities, and towns lining its gorgeous shores. Because of its stunning beauty and abundance of recreational opportunities, it has long been a popular tourist destination in North America.
Visitors can go swimming or sailing on the lake, or rest and unwind on one of its beaches, in addition to hiking, horseback riding, and camping in the surrounding surroundings. There are several casinos and resorts on the Nevada side, while Tahoe City and South Lake Tahoe, which are more serene and gorgeous, provide enjoyable, family-friendly activities.
9. Great Sand Dunes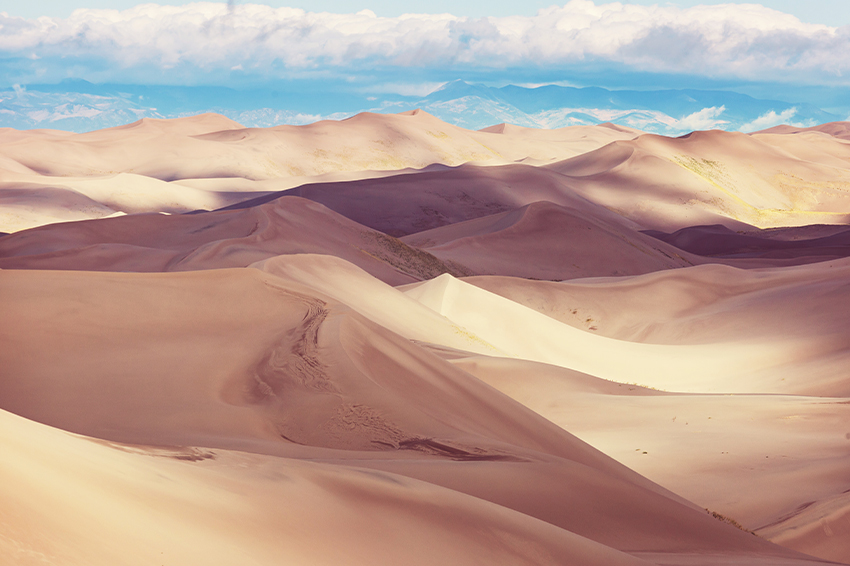 The amazing sea of sand that makes up Colorado's Great Sand Dunes stretches forever into the distance and is one of the state's most incredible natural phenomena. The spectacular dunes, which reach heights of up to 230 meters, are located within the same-named national park and preserve.
Hiking and sandboarding are two popular activities for exploring the wind-sculpted sands. From atop the enormous dunes, you may enjoy breathtaking views. From a lofty vantage point, you can see the endless dunes surrounding you, as well as mighty mountains and lush trees dotting the horizon.
10. Sedona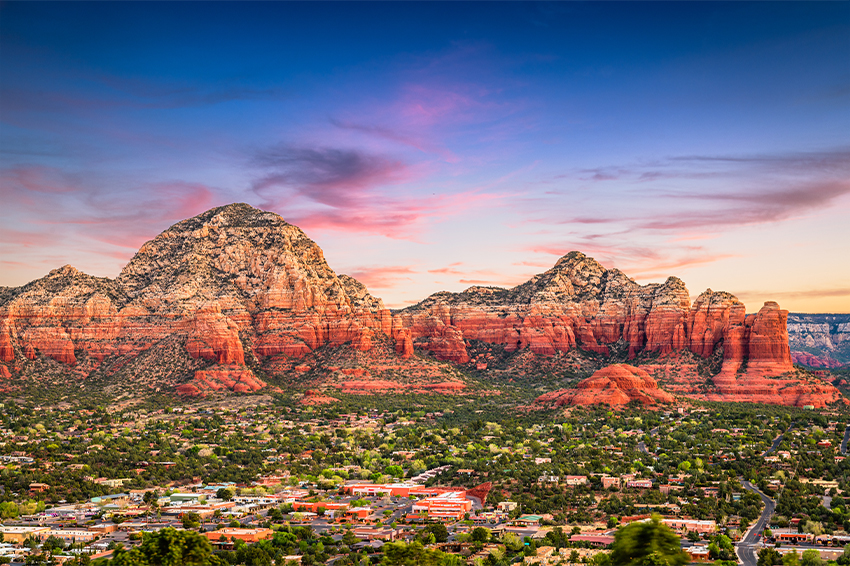 Sedona is known for the vibrant red sandstone formations that surround it, and it is located in a tranquil setting. The little community, which is located in the heart of Arizona, has long been revered as a sacred and spiritual site. Around town, there are numerous New Age stores, alternative healing centers, and wellness centers.
Sedona offers over a hundred art galleries and Native American arts and crafts businesses, as well as several good restaurants and annual arts festivals, for visitors to explore. The breathtaking panorama that is wonderfully illuminated at sunrise and sunset is, nonetheless, the main tourist draw. These formations are ideal for a variety of outdoor activities, including hiking, cycling, and rock climbing.