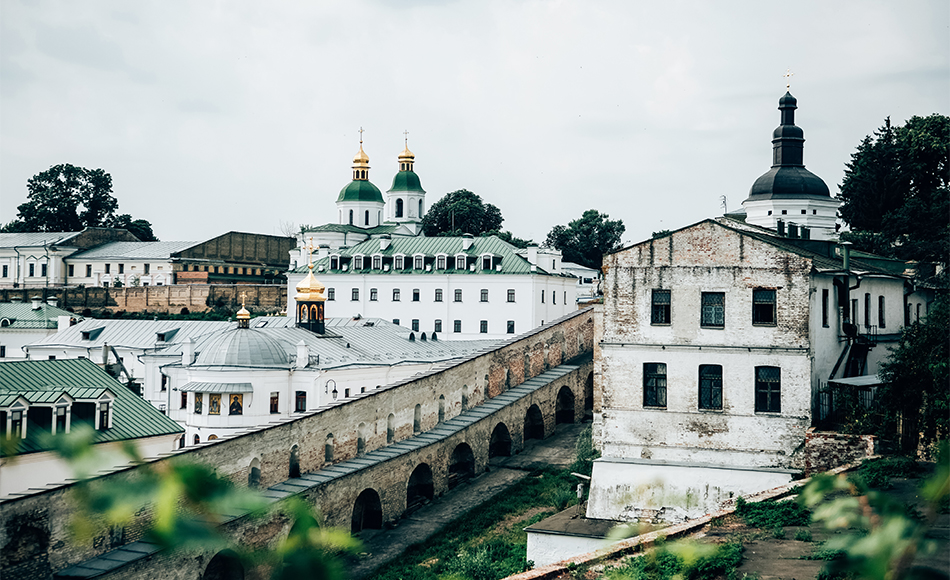 Top 10 Attractions Things to Do in Kiev
Kiev is experiencing a renaissance. The city, frequently featured on the evening news, is just waiting to be discovered by tourists. You may recognize Kyiv as Ukraine's capital and an industrial powerhouse, but you may not realize that this lesser-known European city is also a popular tourist destination.
Take a stroll around the streets and check out the various tiny stores, restaurants, museums, and historical sites. Although the city has three million people, it preserves a small-town feel in most of its neighborhoods.
It isn't much you won't find in this unknown Eastern European treasure, which serves as Ukraine's center of science, industry, and culture. Whether you're seeking romance, history, or just a unique retreat, Kyiv has it all.
1. St. Sophia's Cathedral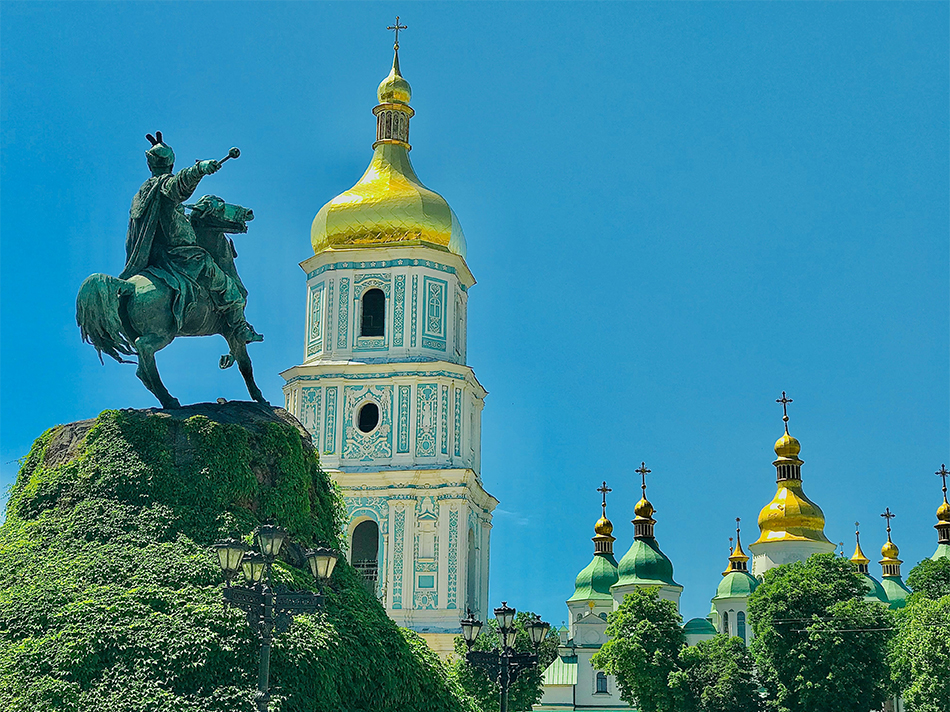 In the 1980s, St. Sophia's Cathedral (also known as Saint Sophia Cathedral) was designated as one of seven UNESCO World Heritage Sites in Ukraine. It was built in 1037 and is known as Hagia Sophia. Because it is a popular tourist destination, it is best to go early in the day.
It's one of Kiev's most stunning churches, as well as one of the oldest. The inside is adorned with beautiful murals, ancient mosaics, and frescoes. Over the years, other structures have been added; one entrance charge covers all of them.
From the bell tower, take in the views of the city. There are tours available.
Address: Volodymyrska St, 24, Kiev
2. St. Andrew's Church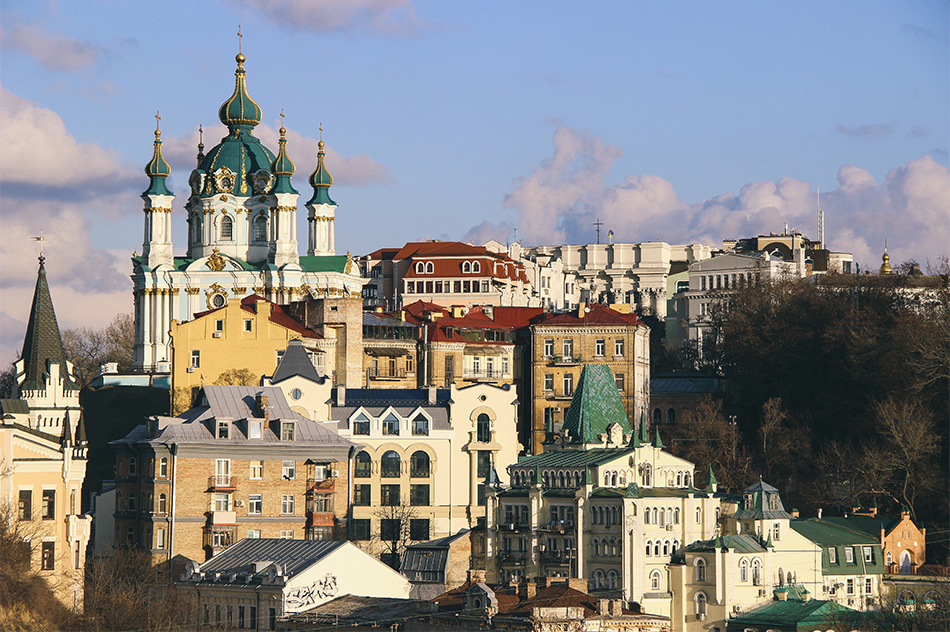 Another noteworthy landmark in Kyiv may be in Podil, one of the city's oldest neighborhoods. It was designed by Russian architect Bartolomeo Rastrelli during Catherine the Great's reign.
St. Andrew's is an excellent example of a church erected high on a hill for all to see. Despite the fact that the cathedral is no longer religious, it still has a significant collection of paintings and sculptures. St. Andrew was the patron saint of Kyiv, and his importance is reflected in the outstanding Baroque architecture.
3. National Art Museum of Ukraine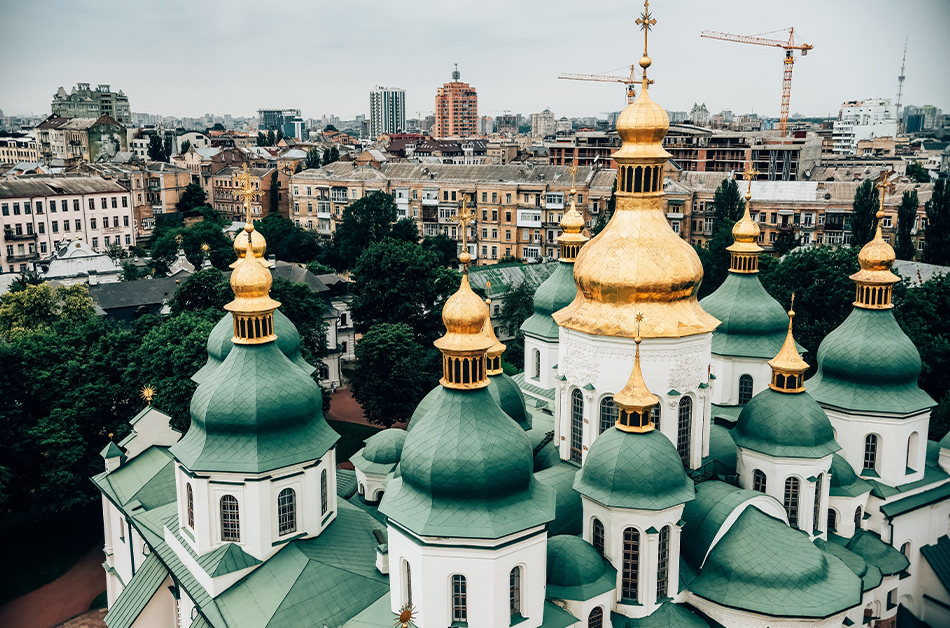 The National Art Museum is one of Ukraine's most popular attractions. It was founded in 1897 by Bohdan Khanenko, a wealthy lover of the arts who was determined to build the country's first museum. He was successful—the historically significant structure now houses a collection of essential sculptures, artwork, and icons.
Ukrainian artists, both local and those who have moved to other countries and maintained their artistic careers, are represented. The museum also exhibits contemporary artists' work and is known worldwide as an essential representation of Eastern European art.
4. Kiev Pechersk Lavra Monastery
Two cave monks, St. Anthony and St. Theodosius established this monastery complex. It's incredible to realize they date from the 11th century, as they were built over a series of caves excavated by monks.
Ukraine's Baroque style is at work once more in a sequence of other buildings in the complex. The Near and Far Caves are two different names for the same attraction. Make a point of visiting both sites since hundreds of relics are found.
The underground crypts, where monks are buried under glass, are not missed. Here you'll find a scary and claustrophobic view into the past, as well as one of the city's most unusual sights.
5. Mariinsky Palace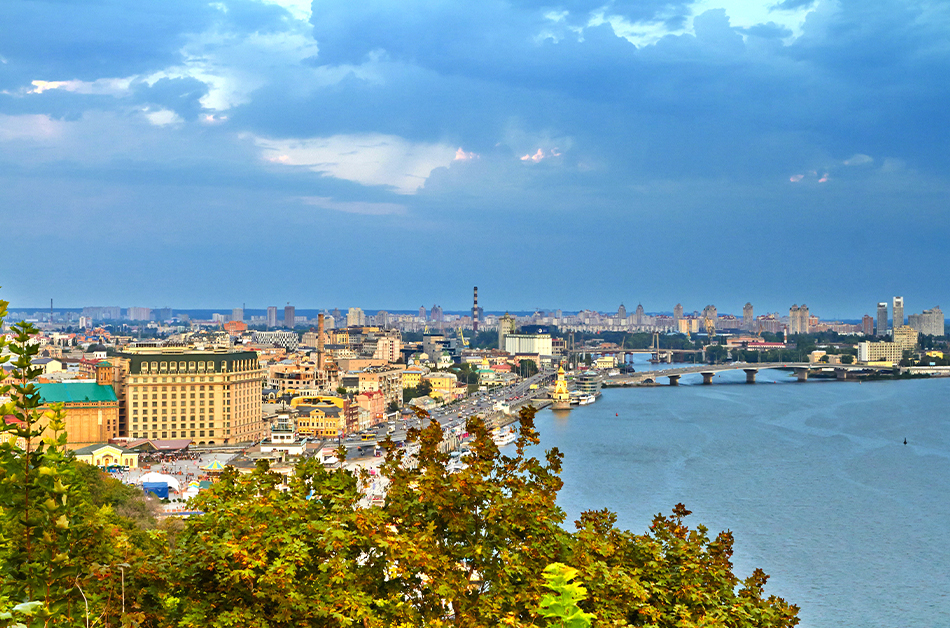 The President of Ukraine's formal ceremonial residence is this Baroque palace. After a fire destroyed the original construction, Alexander II had the castle rebuilt in 1870, using the existing blueprints as a basis. The pastel blue exterior gives the majestic architecture a dreamy feel.
Visitors will find a collection of artwork by Ukrainian masters and cultural and historical treasures inside the museum. The surrounding planted grounds provide a peaceful setting for reflection.
6. Independence Square
Independence Square had its international debut in 2004 as the site of the Orange Revolution, during which the people's power altered Ukrainian history and the country's future.
Many festivals, concerts, and parades take place in the area because it is the city's center square. Six fountains, a waterfall, and a massive column signifying Ukrainian independence can be found at the site. It's a terrific place to people-watch in the evenings, and there's always a light show and music going on with the fountains on exhibit.
Because it is adjacent to numerous shops, restaurants, and popular attractions, visitors will find this region to be a handy location for their stay in the city.
7. Mezhyhirya: Former Presidential Palace
Mezhyhirya is located on the banks of the magnificent Dnieper River in a beautiful setting. The compound is where Viktor Yonukovych, Ukraine's previous president, used to live. If you're lucky, your tour guide will be a former resistance caped member. He makes for a fascinating hour of commentary, charged with safeguarding this example of political greed and dishonesty.
The opulence on display will leave visitors speechless. The building is now a symbol and reminder of overindulgence, institutional greed, and corruption in all its splendor. There are tennis courts, a shooting range, an equestrian club, a helicopter pad, an ostrich farm, a dog kennel, a golf course, and hunting grounds within its closed gates, all created as the country's population struggled to feed itself.
8. National Opera and Ballet of Ukraine
The National Opera of Ukraine has been a cultural stalwart in Kiev since its humble beginnings in 1867. After a tragic fire in the 1980s, the remarkable structure that houses the cultural institution was reconstructed with unique architecture and modern conveniences.
It's one of the city's most prominent cultural attractions, with millions of visitors flocking to see classics like Swan Lake and the Nutcracker throughout the previous century.
The National Opera is more than just a terrific spot to see a show. Outside is a great place to people watch or get a quick bite to eat. Outside, there is a waterfall sculpture, and there are a couple outstanding eateries across the street.
9. Museum of the History of Ukraine in the Second World War
The Museum of the History of Ukraine in the Second World War, was opened in 1981, is located on the banks of the Dnieper River. Everything relating to Ukraine's role in WWII is memorialized in the complex through monuments and relics, including uniforms, letters, and major pieces of history such as airplanes and artillery.
Even if most of the displays aren't in English, you'll still get a sense of what it was like to be a soldier at the period, and roaming around outdoors, you'll be able to enjoy some spectacular views of the city below.
10. St. Volodymyr's Cathedral
St. Volodymyr's Cathedral is one of Kiev's most important churches and is one of the city's most important landmarks. It is without a doubt one of the most impressive. Many consider it to be an important part of the Ukrainian Orthodox Church's structure.
The spectacular Byzantine-style architecture and art greets you from the moment you walk in the door, and most visitors find it breathtaking. With gilded murals, paintings, and hand-carved accents nested inside this holy sanctuary, the craftsmanship is magnificent and one-of-a-kind. On a tree-lined street near Shevchenko University, the gardens are as lovely.
When visiting, keep in mind that both men and women must be dressed suitably, with ladies wearing a headscarf. Keep an eye on the clock as well. Services are provided on a regular basis.