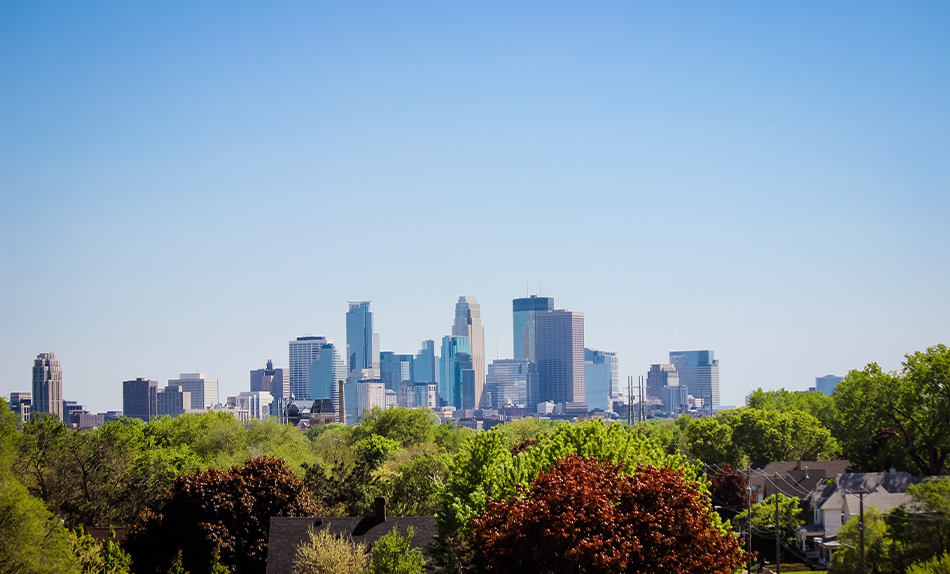 10 Best Places to Visit in Minnesota
Minnesota, sometimes known as the Land of 10,000 Lakes, is located in the Midwest of the United States. In truth, Minnesota has even more lakes than that! Those who appreciate water activities will find Minnesota to be a terrific area to visit.
Furthermore, Minnesota is home to a variety of charming cities, beautiful national parks, and some of the greatest shopping in the country. The greatest locations to visit in Minnesota are listed below.
1. Minneapolis
Minneapolis is the state's biggest city. This city offers it everything, whether you're looking for sports, nightlife, parks, or culture. The Minnesota Twins, Minnesota Vikings, and Minnesota Timberwolves all have stadiums and arenas in Downtown Minneapolis where fans may see their favorite teams play.
First Avenue, where Minneapolis native Prince shot Purple Rain and where you'll find a wonderful selection of live music venues, is also located downtown. If you're looking for art, Minneapolis has two world-class options: the Walker Art Center and the Minneapolis Institute of Arts.
2. Boundary Waters Canoe Area
The Boundary Waters Canoe Area is located in the far north of the state, accessible via Ely or Grand Marais. Because this vast, wild landscape is connected by innumerable glacial streams and lakes, canoeing is frequently the greatest option for moving about. It is, without a question, the most picturesque choice. It is easy to rent a canoe for the day and paddle around the popular places, but adventurous guests will want to venture farther into the woods.
Camping is quite popular, and you may pitch your tent next to a clear stream or observe a moose early in the morning. Even if you're not a big fan of canoeing, the unspoiled environment and breathtaking landscape make this one of Minnesota's greatest locations to visit.
3.North Shore Scenic Drive
Get behind the wheel and discover the North Shore Scenic Drive to view Lake Superior's shoreline in all its grandeur. The journey is little over 140 kilometers long in all. It is absolutely doable in a single day, and you may wish to travel one day, stay the night, and return the next day.
Begin your journey in Canal Park in Duluth and continue all the way to Grand Portage, which is just minutes from the Canadian border. Look out the window for views of the Sawtooth Mountains, Lake Superior's azure waters, spectacular lighthouses, and a plethora of picture-perfect little towns and villages. Waterfalls, such as Gooseberry Falls and High Falls, are among the picturesque attractions of traveling along the North Shore.
4. Saint Paul
The capital city of Saint Paul is a must-see for anybody visiting the state. The city is next to Minneapolis, and the two combined create the Twin Cities metropolitan region. The Landmark Center, aside from the Renaissance-style Minnesota State Capitol Building, is one of Saint Paul's most famous landmarks.
The Landmark Center's castle-like edifice, which was formerly a federal courtroom and a post office, is now home to odd galleries and sculptures. The Wabasha Street Tunnels, amazing sandstone caves accessible from a public street and previously used as secret speakeasies, are also not to be missed.
5. Duluth
On the beaches of Lake Superior, the port city of Duluth is an excellent destination. It's largely regarded as one of the Midwest's most beautiful cities, and it's simple to understand why. Because Duluth was founded at a height of 700 feet above sea level, much of Downtown Duluth has spectacular views of the lake below.
Canal Park should be your first stop in Duluth if you only have a limited amount of time. Canal Park features a four-mile water walk, a lighthouse pier, an aquarium, and a plethora of stores, restaurants, and tourist attractions.
6. Grand Marais
Grand Marais may be a little community with a small population, but it has an outstanding position. Grand Marais is situated on the North Shore of Lake Superior, close to a double port. Grand Marais is the starting point for the Superior Hiking Trail, which leads to several observation points along Lake Superior's shore and even up to Canada.
Many downtown restaurants offer local paintings, sketches, and sculptures, and the hamlet is also a thriving arts area. Grand Marais is a popular destination for outdoor enthusiasts since it serves as an entrance to the Boundary Waters Canoe Area Wilderness.
7. Itasca State Park
There are several gorgeous state parks in Minnesota, but Itasca State Park is the largest and most popular. With old growth woods, crystal-clear streams, and lakes ideal for watersports, the park has something for everyone.
The Mississippi Headwaters are located in Itasca State Park, where the mighty Mississippi River originates and snakes its way down to the Gulf of Mexico. Visit the Mary Gibbs Mississippi Headwaters Center to discover more about the beautiful Mississippi River, in addition to hiking, camping, fishing, and birding.
8. Mall of America
Bloomington is a retail destination for those who enjoy shopping. Bloomington is home to the Mall of America, which explains why. To say that the mall is large is an understatement. The Mall of America is the country's largest indoor mall, but it's also a lot more. The mall has dozens of eateries in addition to hundreds of stores. Within this massive facility, there is even an aquarium and an indoor theme park, believe it or not.
9.Voyageurs National Park
Voyageurs National Park is located just outside of International Falls, on the Canadian border. Lake Kabetogama and Rainy Lake are among the bodies of water that surround the park. Miles of pure, unspoiled shoreline, as well as innumerable tiny and isolated islands, may be found in Voyageurs National Park.
It's a great spot to get outside and explore, and you can easily avoid the crowds even during the busiest times of the summer. A huge lure is the more than 50 miles of hiking trails, which allow you to observe some of the local animals. You may see bald eagles, otters, and even the rare moose in the park, which is noted for its population of Eastern Timber Wolves.
10.Pipestone National Monument
The Pipestone National Monument is the city of Pipestone's primary attraction. The monument, which was established in 1937, commemorates the quarries where local Native Americans lived and worked. The Pipestone National Monument is located atop Buffalo Ridge, which provides a magnificent view of the grassland below.
Native American artisans may be seen using pipestone from the quarries to create ceremonial pipes and other amazing handicrafts. Don't leave without seeing Pipestone, where a pink mineral called Sioux Quartzite is used to make much of the local architecture.