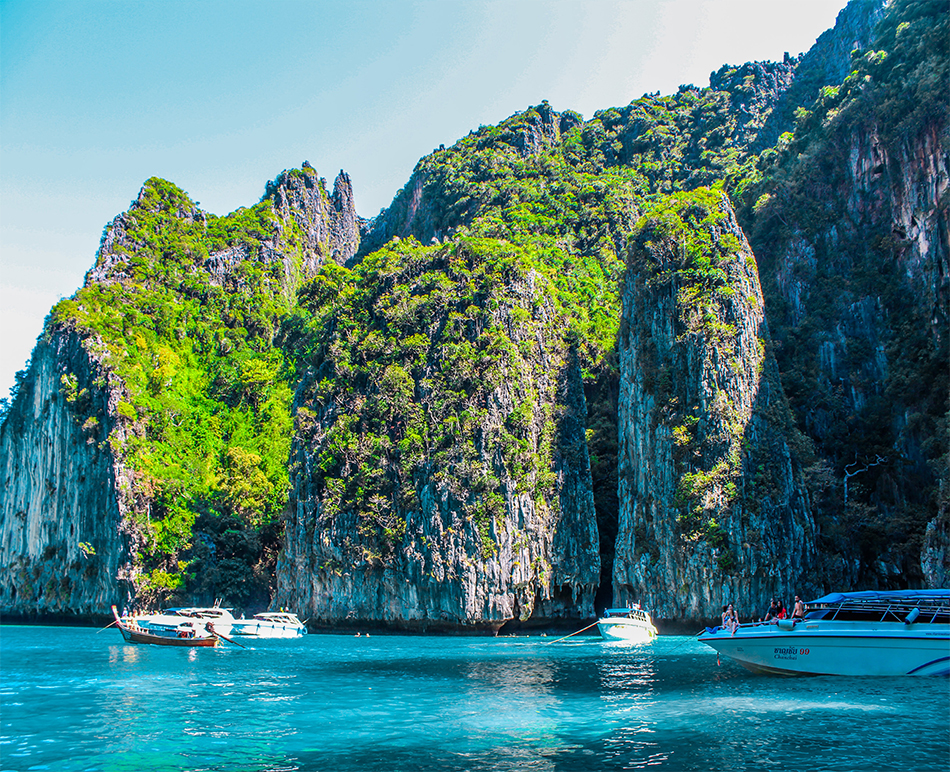 10 Best Things to Do on Phuket Island
The west coast of Phuket faces the Andaman Sea. There are many soft white sandy beaches, such as Kamala Beach, which is known for its cleanliness, Surin Beach, which has a personal style; Coral Island, where sea sports are frequently held; and Patong Beach, which has a vibrant nightlife, among others. Each beach has its unique qualities and charm, and the white beaches, oddly shaped limestone reefs, and jungle-strewn hills draw a large number of visitors each year. Phuket is also a popular honeymoon destination for couples. It is a great place to travel to with abundant activities.
So follow the list next to see what you can go and do in Phuket.
1. Play with Patong Beach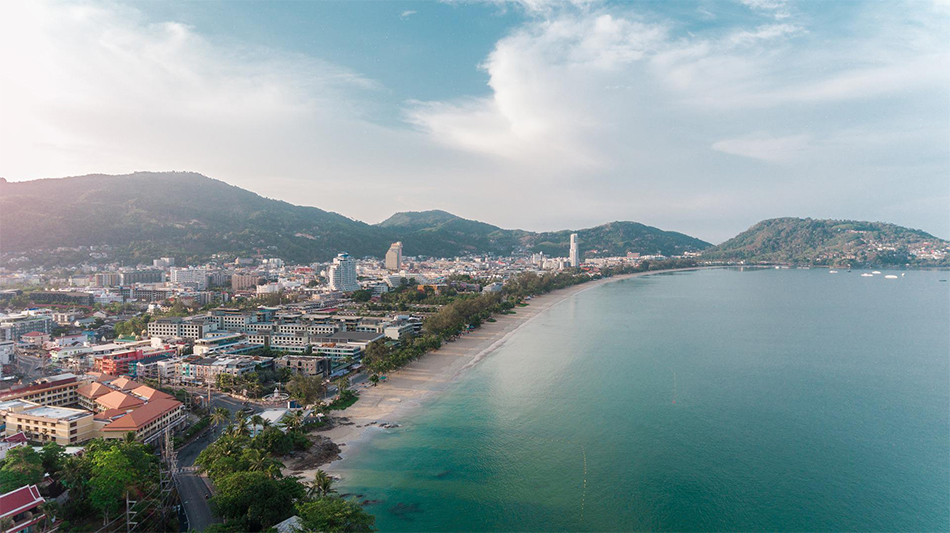 Patong Beach is a popular tourist destination in Phuket. It is located on the island's west coast, about 15 kilometers from Phuket Town, and is shaped like a horseshoe, with fine soft sand and clear blue water.
The south and north sides of Patong Beach have colorful coral reefs on the seafloor. See the beautiful sea, participate in various exciting water sports, and eat legendary seafood stalls. It's is the best travel experience.
You can also visit the well-known Bang La Road Walking Street to enjoy the vibrant bar nightlife. It's a lot of fun to order a simple drink, talk with strange friends, experience the nightlife, and blow the sea.
2. Play at Karon Beach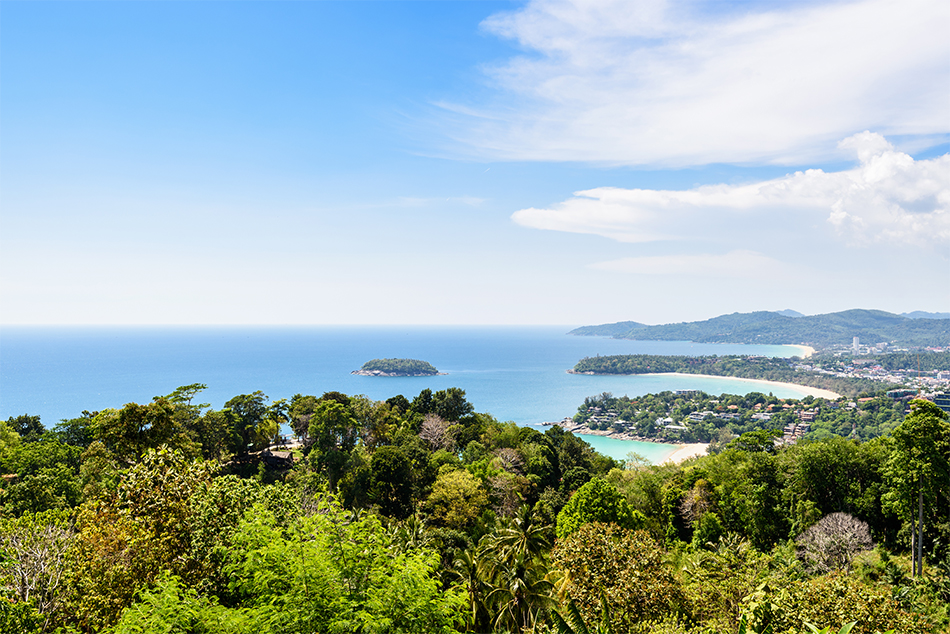 Karon Beach is one of Phuket's most extended and narrowest beaches, and it is a popular tourist destination. With golden sand and sapphire blue water, you can enjoy large expanses of clean white sand, and walking on the soft sand is a pleasure.
It's also a lovely place to swim, but keep an eye out for the waves, and when you're ready to unwind after a day of fun, there are plenty of great dining and nightlife options to choose from.
3. Experience the nightlife in Kata Beach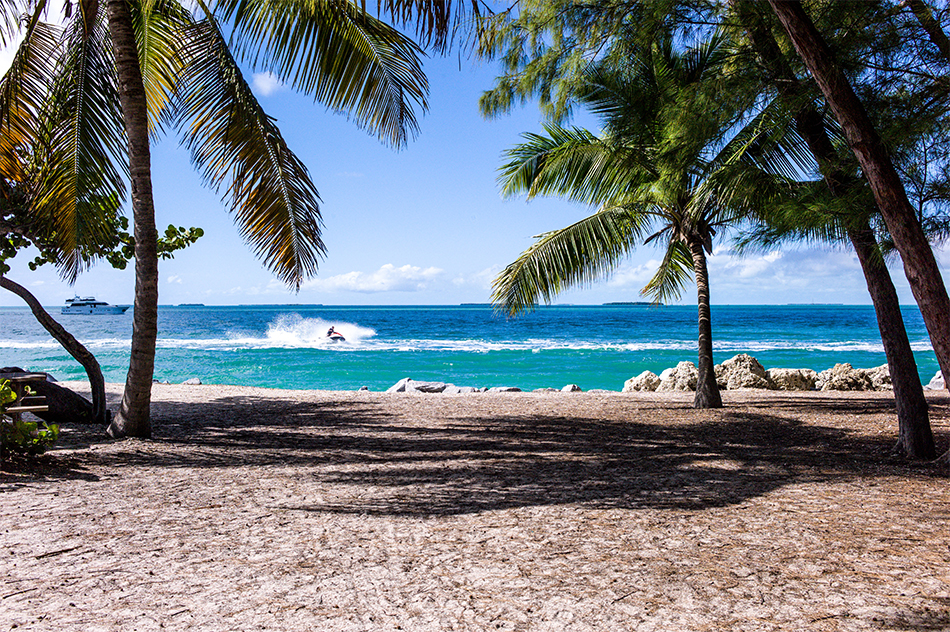 Kata Beach is one of the most popular beaches in Phuket. It's a popular tourists attractions; Kata Beach sits on a great expanse of sandy beach, blue sea, and a beautiful island standing in the middle of the bay, where you will see beautiful sunset photos.
Kata Beach is divided into the Central District, the South District (with Club Med in the middle), and Kata Back Road. The central area has a very active nightlife and many beer bars. In contrast, the south region of Kata revolves around two historic hotels: the Kata Beach Resort and the rather famous Boathouse boathouse and its fantastic restaurant. It is also the most active part of Kata Beach, where many people spend their vacations.
Kata Beach is also an excellent place for families to get away, with many great dining venues, shopping outlets, nightlife hotspots, hotels, and a growing selection. You will have a good time on the beach.
4. Phi Phi Island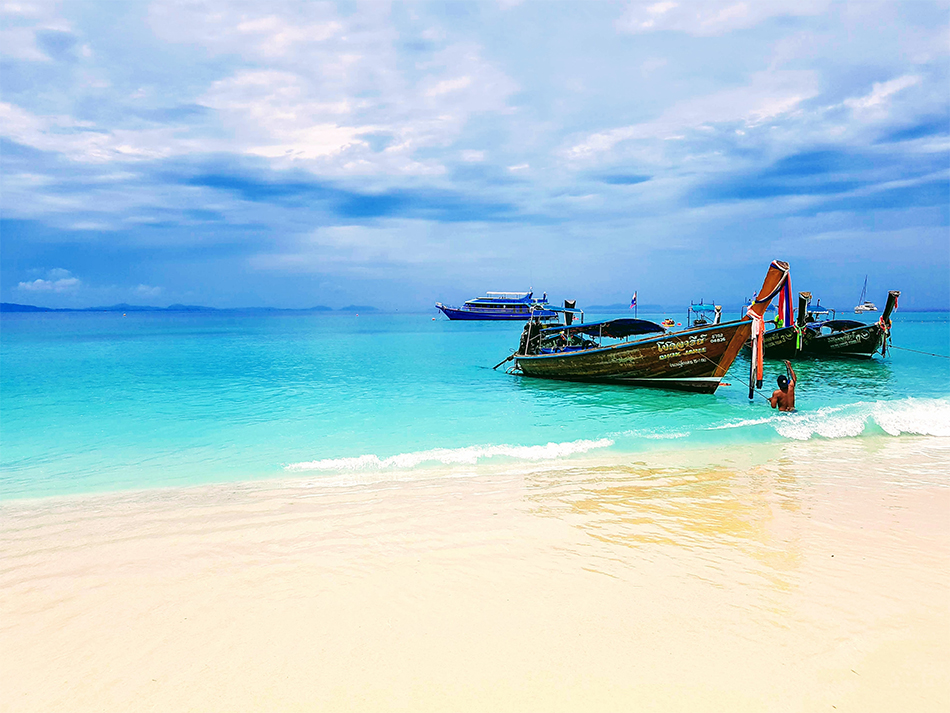 Phi Phi is a Thai National Park consisting of the large Phi Phi Island in the north, the small Phi Phi Island, and four surrounding islands in the south. It is a sun-kissed destination with soft white sandy beaches, calm blue waters, natural caves, and unspoiled nature, and it has become one of the most popular vacation destinations in recent years. The famous film "The Beach," with its dreamy blue sea and sunny sky, was shot on Little Phi Phi Island.
It will be a wonderful experience to sit by the seawall, the sky covered with stars, the soft cool sea breeze, listen to the sound of the waves, look at the moonlit sea view, and be in the beautiful scenery. Phi Phi Island is also a diving destination where you can dive into the emerald waters, see coral reefs and tropical fish, and explore the wonderful underwater world. You will feel delighted and relaxed, and I believe this is what travel is all about.
5. Discover the Past at Phuket Town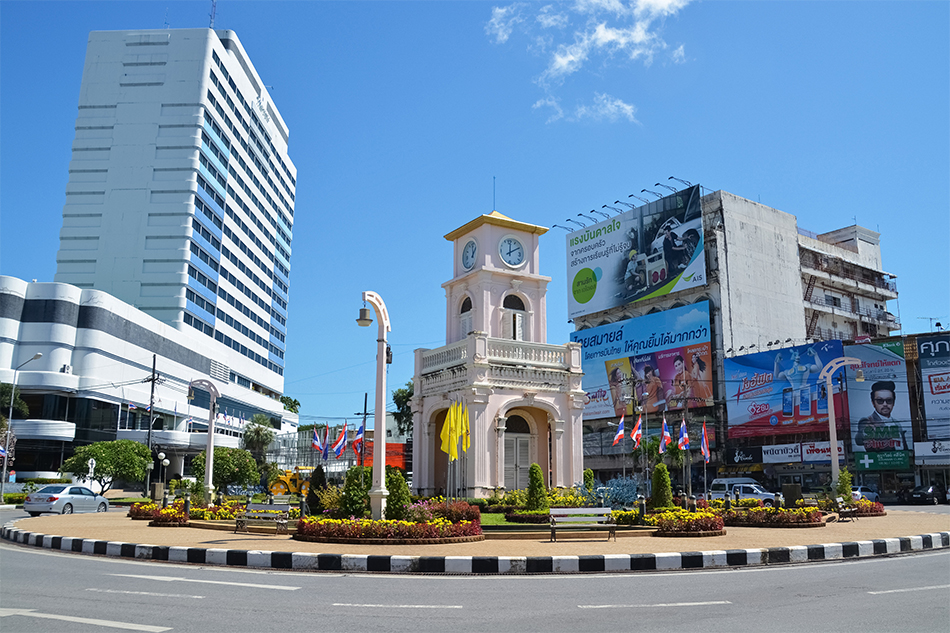 When visiting Phuket, you not only can enjoy the beautiful beaches and also can learn about the city's cultural and ethnic customs and stroll through the bazaar in Phuket Town. To Phuket Town, walk around the old town, visit a weekend market, dine at a local restaurant, and see how the locals live; feeling the rustic humanistic style is also a beautiful experience.
And there are many old buildings in the old town, each in a different color, colorful, especially exotic look, which is also very suitable for photo commemorative. A pleasant surprise is that Phuket Hill in Phuket Town is the city's highest point, from which you can see the entire city.
6. Exploring Mai Khao beach
Mai Khao is one of Phuket's best beaches. Mai Khao is located in the northwest, next to Sirinath National Park, which also has a kilometer-long golden sand beach. With the most pristine and beautiful scenery, you will not be disturbed by other facilities here; instead, you will be immersed in pure nature.
Because Mai Khao is close to Sirinath National Park, the beach is ideal for crowded vacations. Mangroves, lizards, snakes, and the famous sea turtles can all be found here. Exploring the northern part of Mai Khao beach will lead you to 600 meters of Tachachai Road, which is surrounded by greenery on the south side. Only crabs hidden among the roots can break this place's blissful silence.
Meanwhile, beachgoers can stay in one of the luxury hotels. You can see the giant steel birds that sweep over the turquoise waters of Mai Khao if you go near Phuket Airport.
7. Visit Phuket Big Buddha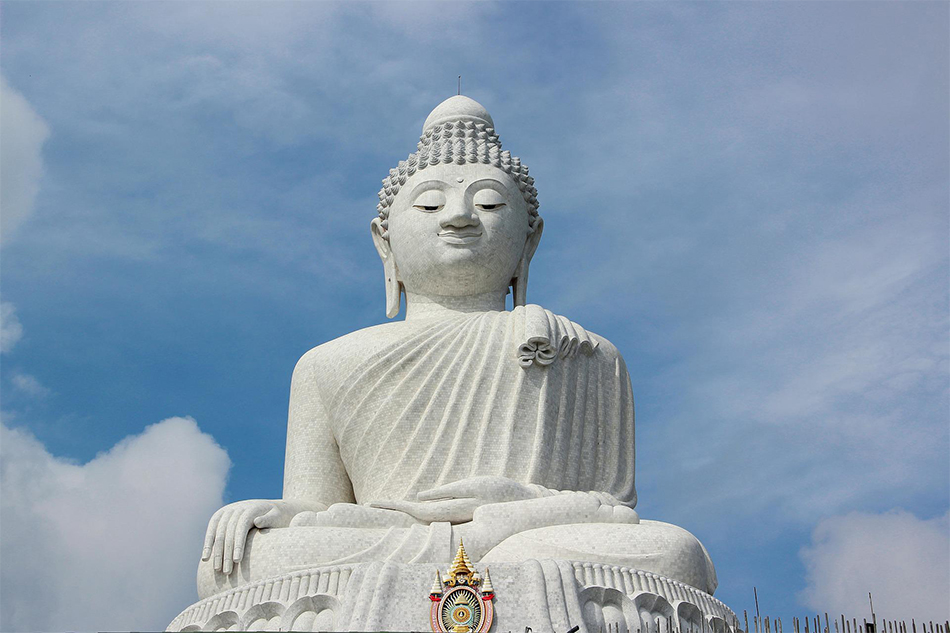 Phuket has primitive tribal groups as well, and if you enjoy adventure, you might want to visit this small village on the island's east coast to see the way of life of the Moken, a tribe of "sea gypsies." They are rooted in the Andaman and Nicobar Islands and have maintained their beliefs and ways of life. Some choose to live by the sea, while others live a semi-nomadic life on land. The majority of the men in the village work as fishermen and occasionally as sea trip guides.
Rahway also has a small fishing port and a beach lined with coconut trees, swamp oaks, and fishing boats, while Nai Harn beach is one of the best for renting a boat and sailing to the offshore islands. It is famous for its seafood market, where you can buy the catch of the day and have it cooked to your specifications by a local restaurant. It is a very memorable and wonderful experience for city dwellers.
8. Phang Nga Bay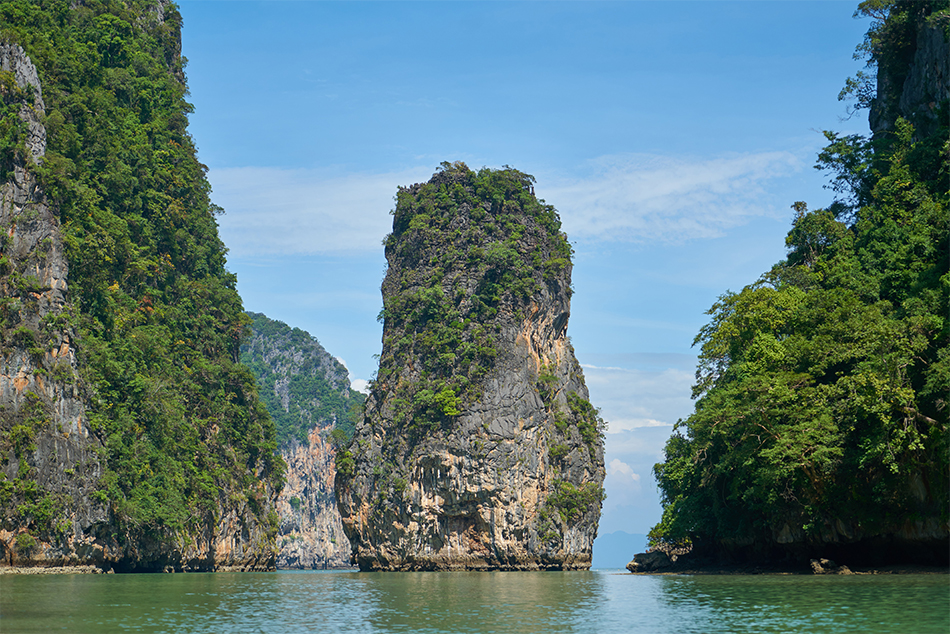 Phang Nga Bay, a bay in the Malacca Straits between the Malay Peninsula and Phuket, is known as the "Paradise of Thailand" and is now a major tourist attraction in Phuket. Phang Nga Bay exudes enchantment, surrounded by beautiful scenery and brimming with mystery. Because of its pristine environment, it is also a haven for many wild animals and plants. There are also many unique caves here.
A large part of the bay is designated as a protected area to preserve its natural beauty. There is also the Ao Phang Nga National Park is also a protected area established to protect natural ecology and one of Phang Nga Bay's must-see outdoor recreation areas.
Many movie fans make a pilgrimage to the islands of Phang Nga Bay. It has appeared in several films, which is why it has become the most famous island in the area. It served as the backdrop for the movie Golden Gunman and Star Wars: Episode 11 - Revenge of the Sith. The film also uses its distinct appearance as a backdrop for the planet Kashyyyk.
9. Look beautiful sunset at Promthep Cape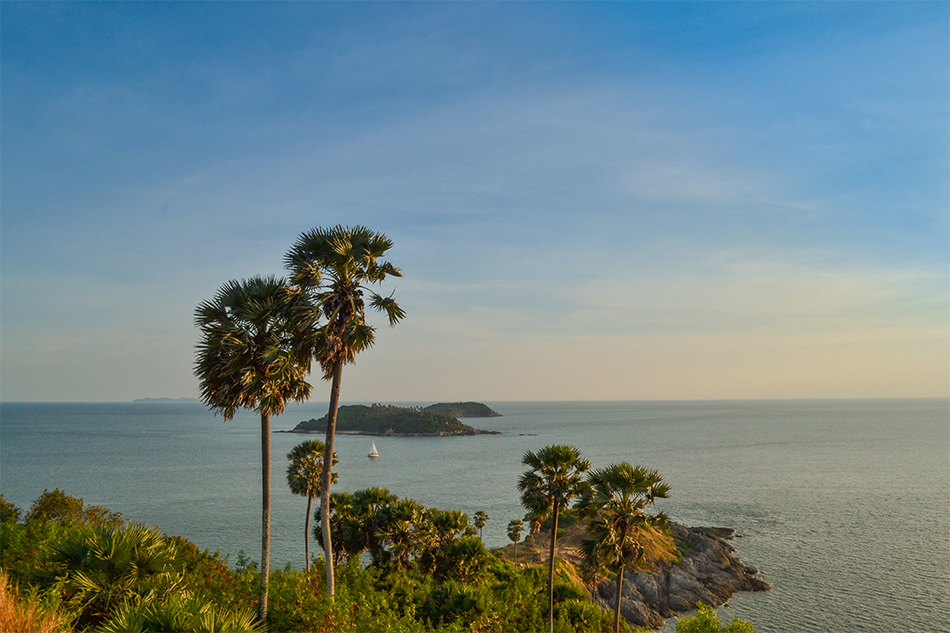 The Godsend Peninsula, Located at the southernmost tip of Phuket, the Divine Peninsula is known as the best place to watch the sunset in Phuket. It is located at the top of a hill with a very wide view.
When the evening, many people come here to enjoy the sunset; you can do nothing here. Just looking at the sea and the sunset in front of you is enough to make you intoxicated; it is also a location for many couples to take wedding photos.
Aside from the peninsula's natural beauty, it is also dedicated to the four-faced Buddha. Thai custom dictates that you worship the four-faced Buddha clockwise and then return to return the wish after it has been granted. The peninsula also serves as a navigation point, and the 9th Emperor's Enthronement Memorial Lighthouse stands at the peninsula's highest point and is free to enter and visit. You can walk down the hill to the seaside reef and experience the waves close.
Near the peninsula are the peaceful beaches of Nathan and Rawai, which are well worth the trip if you have the energy and time. Because of its proximity to Phuket's fishing port, Naihan beach is quiet and relaxing, whereas Rawai beach is known for its seafood. Eat the best seafood at Rawai Beach after watching the sunset on the peninsula.
10. Wat Chalong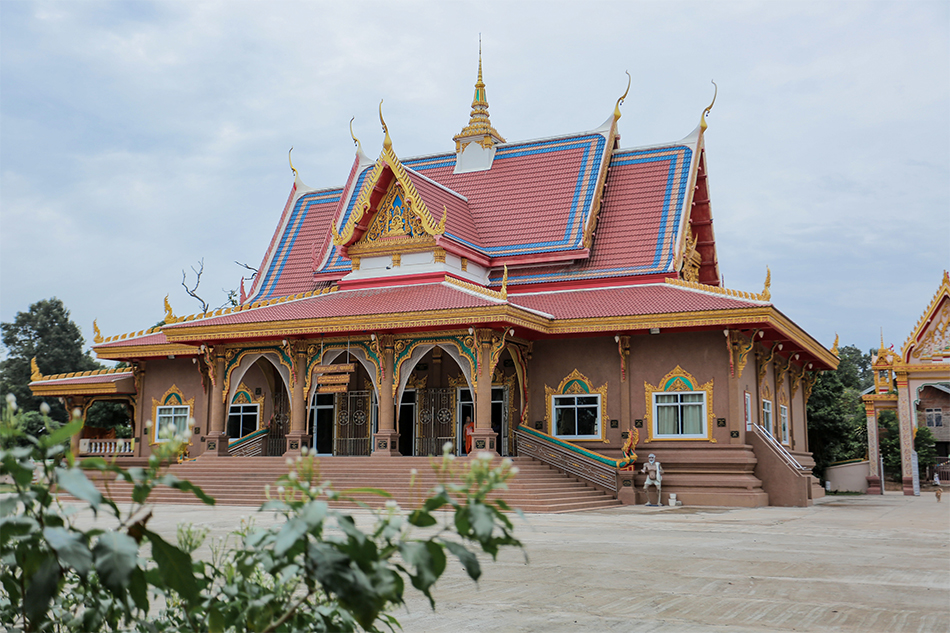 Thailand has a Buddhist culture with many temples, and the Chalong Temple is the largest, most popular, and arguably the most spectacular of Phuket's 29 temples. It is dedicated to two highly respected monks, Luang Pho Chaem and Luang Pho Chuang, and the exhibition hall contains life-size wax models of them and other figures.
The Great Pagoda houses the main Buddha's bone fragments and murals depicting Buddha's life story images. As you walk through the complex, you will notice numerous golden Buddha statues in various poses, but you should know a few things before you go: dress respectfully; shoes are not permitted inside the temple, and women must cover their shoulders and knees.