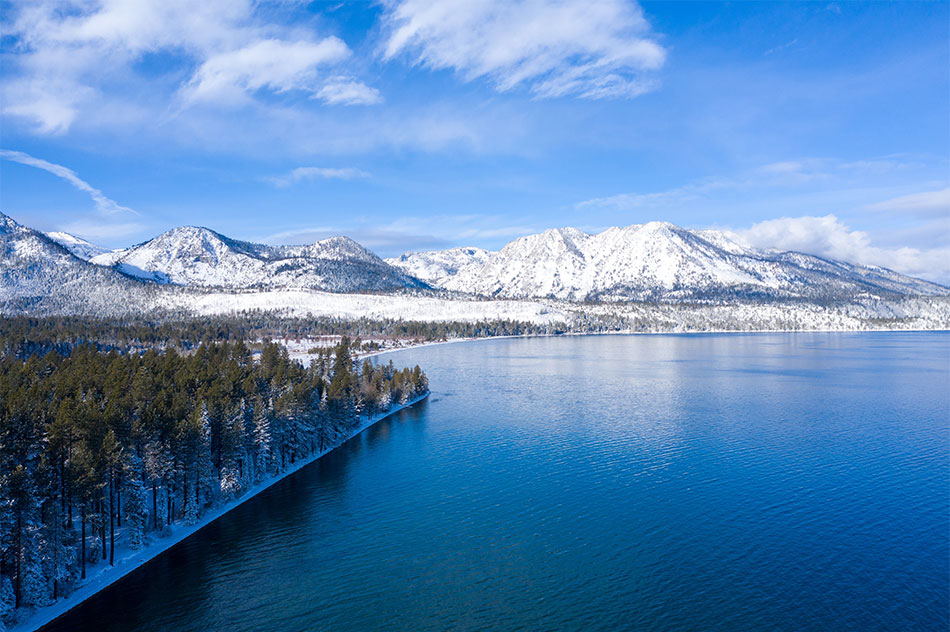 Best Charming Lakes in California
California showcases the diversity of landscapes and climates that California offers, from the arid deserts of the south to the snowy and rugged Sierra Nevada Mountains in the north. It also has perhaps the most diverse climate and landscape of any state, which provides excellent tourist resources.
It is also full of lakes, and it is estimated that California has hundreds of lakes, among which are the well-known Shasta Lake and Lake Tahoe. These lakes are excellent places for tourists who love nature to take a leisurely swim during the week.
1. Lake Tahoe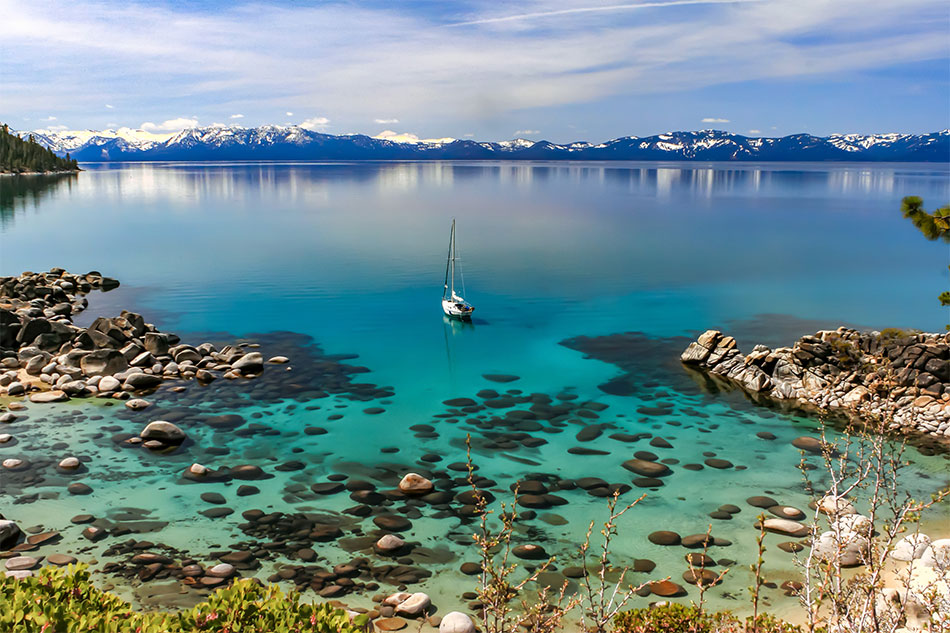 Lake Tahoe is probably the most well-known of California's lakes and one of the ritziest, attracting well-to-do visitors worldwide. It's just off Interstate 80, on the California-Nevada border, in the vast and impressive Sierra Nevada Mountains.
Lake Tahoe offers unparalleled photo opportunities with clear water, forested pine mountains, and cobalt sky. It's full of outdoor recreation activities for those who like to stay active.
It's important to note that Lake Tahoe's weather and road conditions can be extreme in the winter, so consider flying into Tahoe directly if you don't want to risk driving on ice and snow.
2. Mono Lake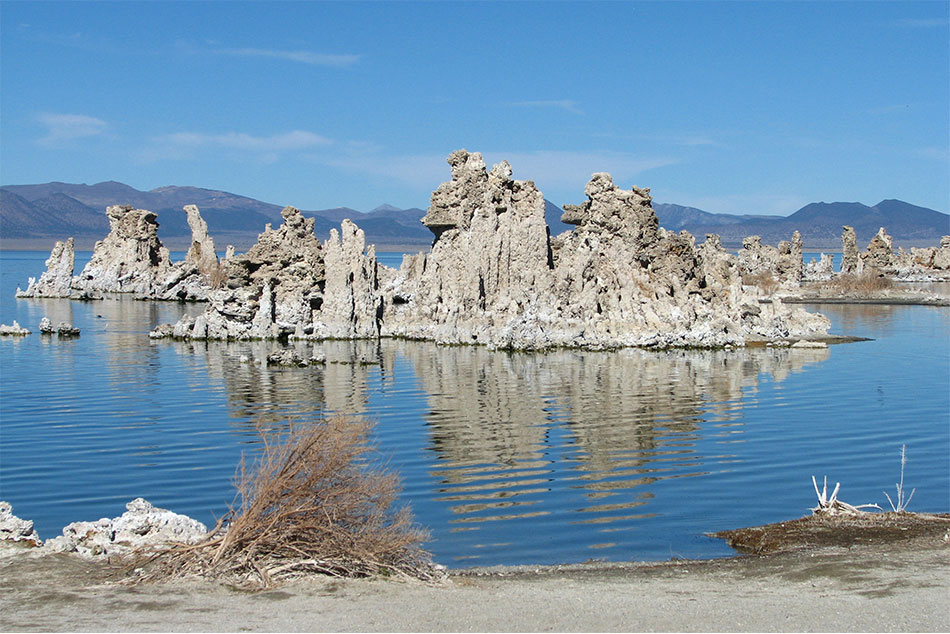 Mono Lake is located between Yosemite National Park and the Nevada border. It is known for its high salt content, constantly evaporating surface water, and the spectacular formation of jagged crystal structures that stick out from the depths like white fingers pointing to the sky.
Mono Lake is also a habitat for migratory birds because of its unique geomorphic environment. A large number of migratory birds roost and breed here every year.
3. Mammoth Lakes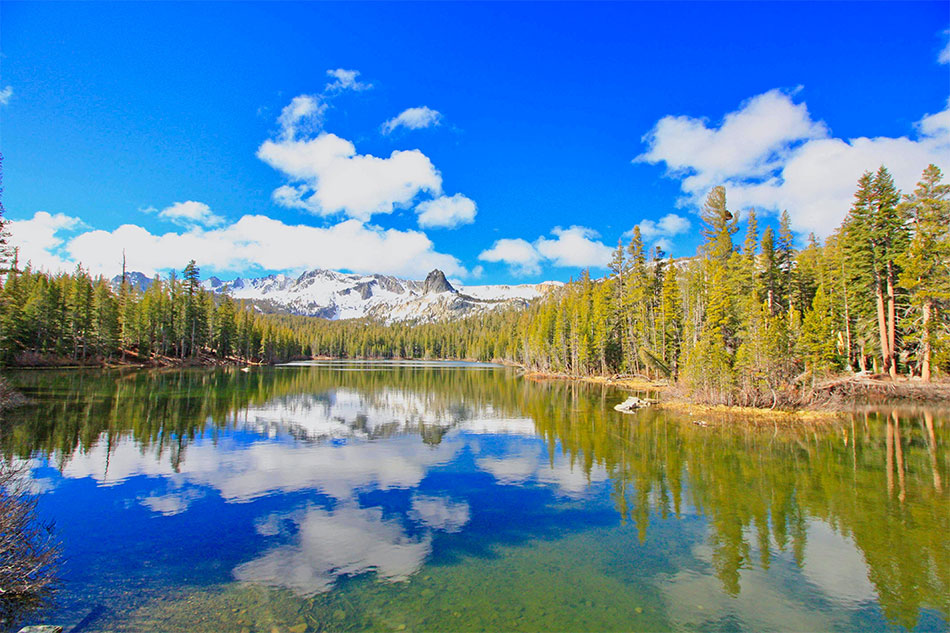 Even in a state as beautiful as California, Mammoth Lakes has a reputation for standing out. Previous visitors have remarked on the allure of its towering mountains, pine forests, clear waters, and traditional alpine lodges, all of which combine to create the kind of place they never thought existed.
It's close to Yosemite National Park, like June Lake, but you will be attracted once you see the town and lake. Remember that idyllic destinations like Mammoth Lakes attract visitors worldwide all year, so if it's on your itinerary, plan and book your accommodations well in advance.
4. June Lake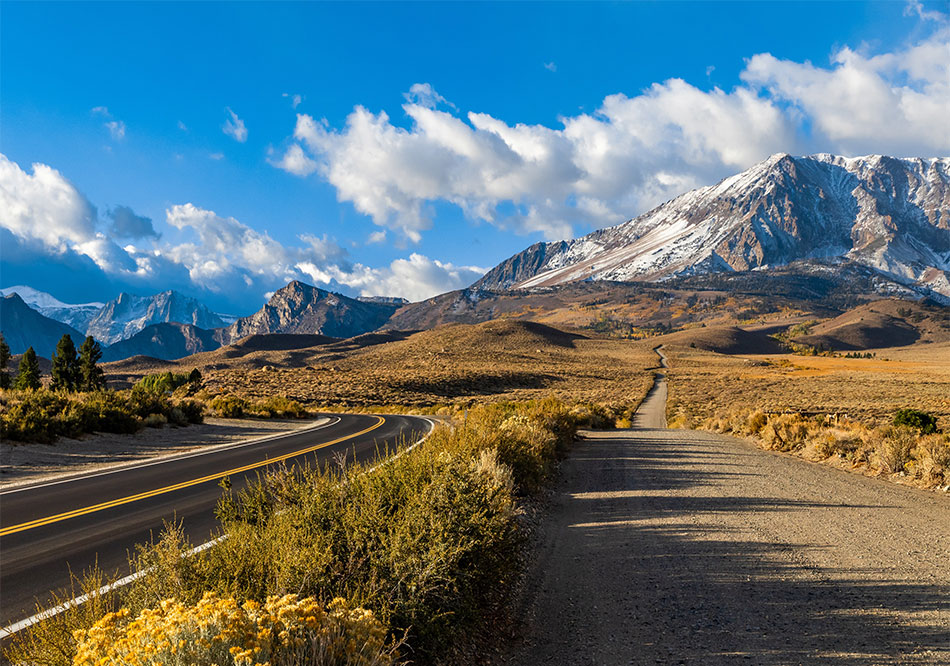 ​​June Lake in northern California is a popular destination for trout anglers and visitors looking for quaint mountain towns. Summers are mild and even cool by southern California standards due to the high altitude, but the winter climate is not friendly.
The town and lake are an easy drive east of Yosemite National Park, allowing visitors to see many of the region's most notable areas quickly and easily. Though stunning all year, the views of the lake and town are charming in the fall, when the deciduous trees' leaves turn vibrant autumn colors.
5. Lake Almanor
Lake Almanor is also nestled into the Sierra Nevada Mountains and surrounded by hundreds of thousands of acres of national forest, making it one of the state's most beautiful and remote destinations. It's not easy to find it, as it's located between Interstate 5 and US Route 395, west of the town of Susanville, but it's full of rewards for those who don't mind venturing off the beaten path.
Mount Lassen, which looms tall on the horizon to the north, is the lake's most scenic icon. The views, which are covered in snow for much of the year, are beautiful and charming. And The lake has over 50 miles of shoreline and a marina, restaurants, and campsites.
6. Lake Oroville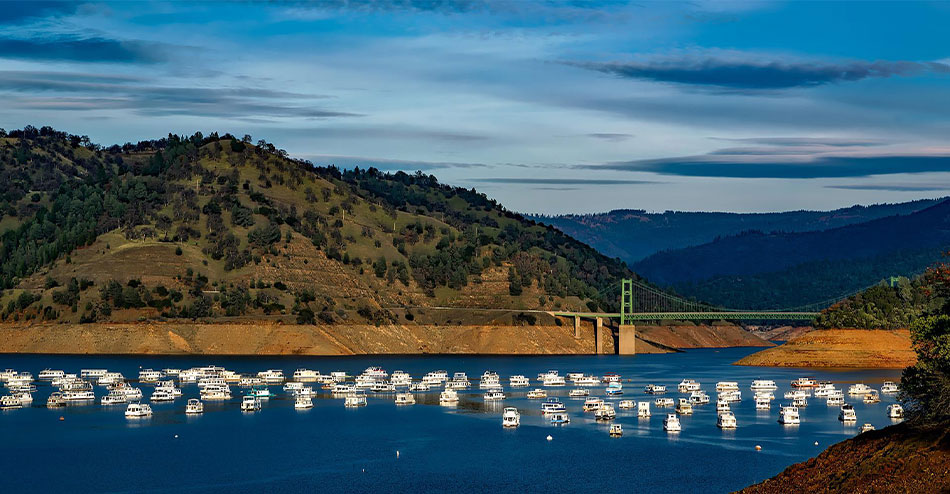 Lake Oroville is an artificial reservoir created when the Oroville Dam construction project was completed in 1969, restricting the flow of the Feather River enough to make the lake.
It's in northern California's Butte County, in the western foothills of the Sierra Nevada Mountains, within the Lake Oroville State Recreation Area.
With the lake surrounded by gently sloping mountains and hills, it's easy to find unobstructed views from one shore to the other. The dam and the Bidwell Bar Suspension Bridge are notable landmarks worth seeing. And the lake is also a popular destination for bass anglers in the region.
7. Lake Havasu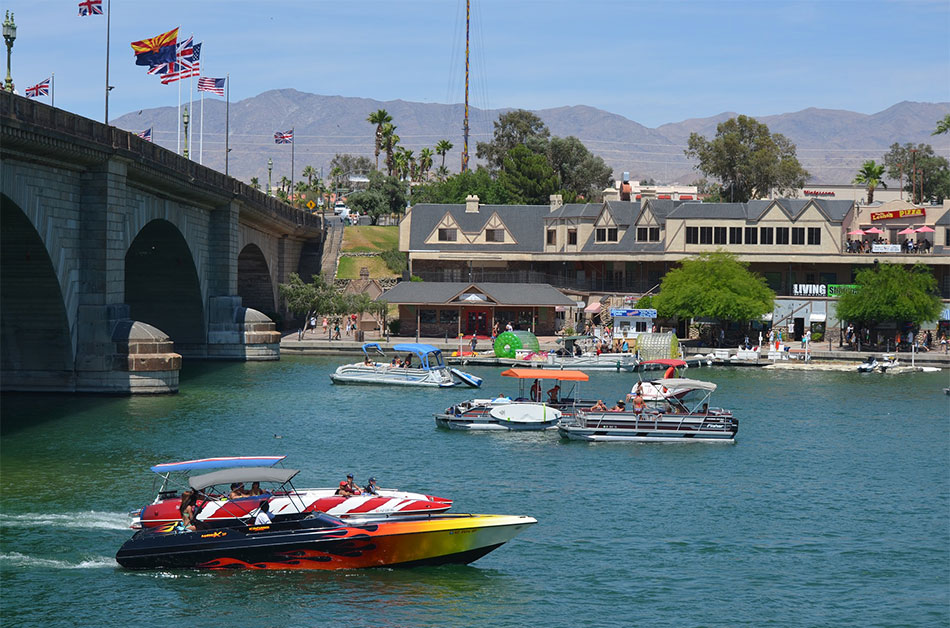 Lake Havasu is a desert lake on the Arizona-California border formed in 1938 when the Parker Dam was built across the Colorado River. Lake Havasu is a great choice to visit for out-of-state visitors who find the landscape and vistas of the American southwest fascinating and alluring.
And Snowbirds and retired RV enthusiasts flock to Lake Havasu every winter to escape the harsh Midwest and east coast winters.
Its proximity to Las Vegas, Flagstaff, and the Grand Canyon National Park makes it ideal for day trips.
8. Lake Sonoma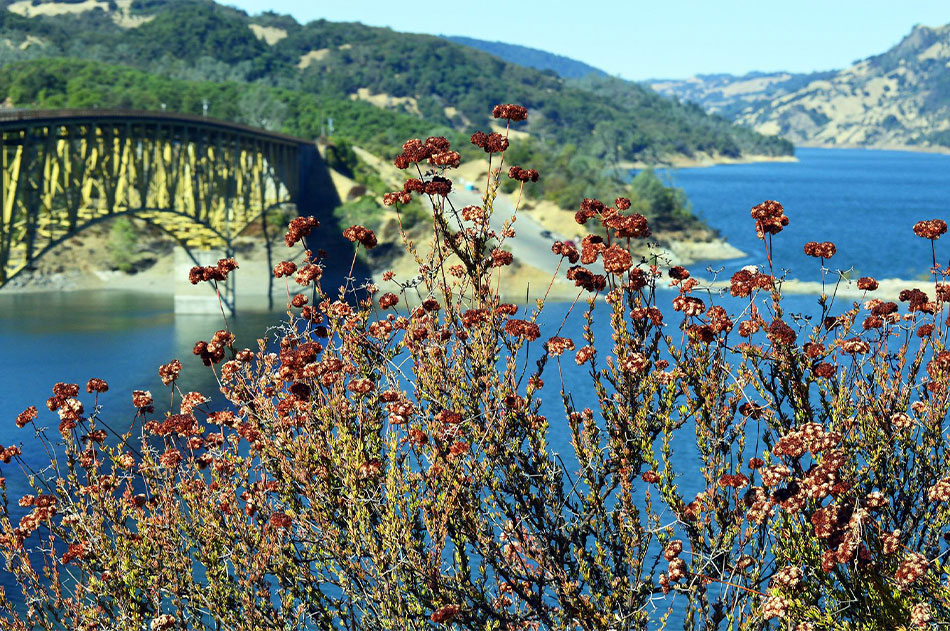 Lake Sonoma is one of the closest lakes to the Pacific coast of nearly all of California's amazing lakes, allowing visitors to see more sights and landscapes quickly.
It is located just northwest of Healdsburg along US Route 101 and provides travelers with various recreational opportunities such as camping, boating, swimming, and fishing.
9. Big Bear Lake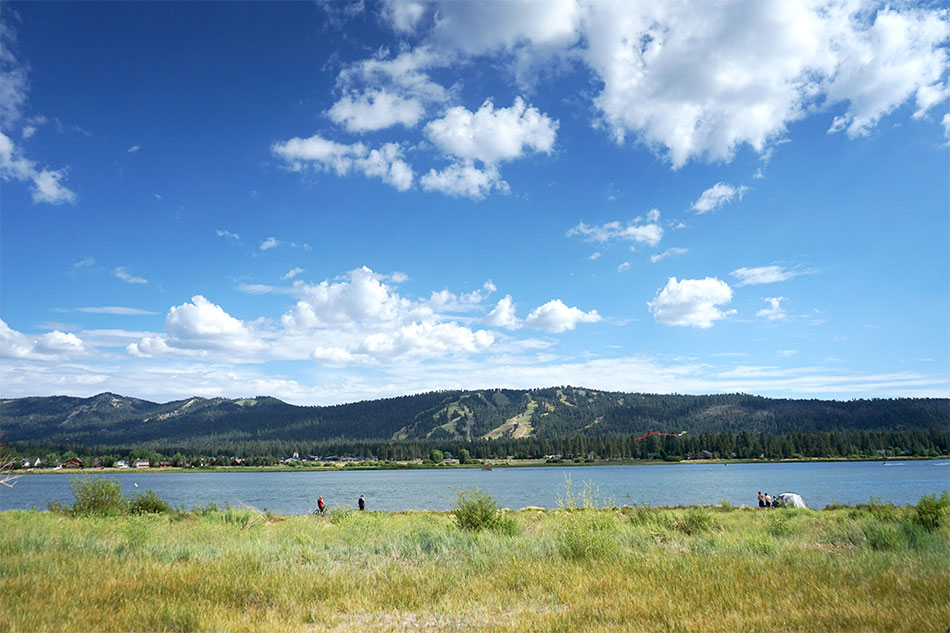 Big Bear Lake is located in the San Bernardino National Forest. It is a manufactured reservoir between Los Angeles, Barstow, and Twentynine Palms, a popular year-round destination for city dwellers.
One of the first sights you'll see as you approach Big Bear Lake on Highway 18 is the famous Boulder Bay Park. You can guess it is made up of large boulders and rock formations on the shore and jutting out into the water.
You'll be astounded by the area's natural beauty no matter when you visit or which part of the lake you choose to explore.
10. Donner Lake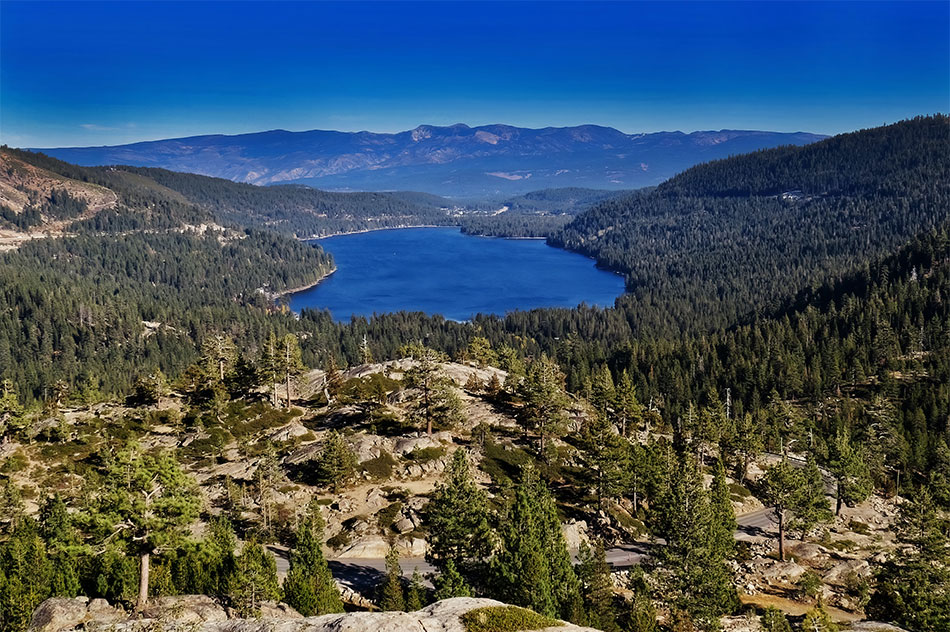 Donner Lake is located just across the border from Reno, Nevada, along Interstate 80, and is named after the unfortunate group of pioneers who spent a harrowing winter trapped in the Sierra Nevada Mountains. Though the winters along the I-80 corridor are harsh, as are the winters in most northern California lakes, Donner and its perfect summer weather are magnets for those seeking to escape the state's sweltering lowland deserts.
Donner Lake is small compared to California Lake standards, but it makes up for its scenery. It's stunning all year, especially in winter, when the surrounding pine-treed and bare rock mountains are blanketed in snow, giving the entire area a distinctly Alaskan feel.